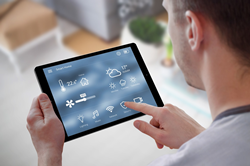 "Studies show that 75 percent of the U.S. population either has a smart thermostat or wants one."
BOCA RATON, Fla. (PRWEB) February 23, 2021
"Studies show that 75 percent of the U.S. population either has a smart thermostat or wants one."
We've seen a lot of advancements in smart home technology over the years and one of the most popular devices to come out of it is the smart thermostat. Smart thermostats are also commonly known as wifi thermostats. These devices look more elegant and modern compared to old fashioned thermostats and offer a lot in terms of comfort, efficiency, and convenience. Wifi thermostats allow users to be in ultimate control of their heating and cooling systems via a phone, tablet, smart speaker or computer. The magic doesn't end there, users can also connect from any place, any time once they're connected to the internet.
Here are the benefits of having a wifi thermostat:
Customized Comfort
One of the most impressive features of a wifi thermostat is its ability to keep track of preferred settings as well as schedules. Most smart thermostats have movement sensors so it can detect when household members are at home and active. Similarly, it can sense when there isn't anyone home. The device will then use this data to come up with a schedule that reflects preferred temperatures when it's needed.
Adjust your home's temperature whenever – wherever!
The evolution of how we control the heating and cooling of our homes is remarkable. We've gone from having to add another log to the fire to warm a room up, to now utilizing wifi connected devices. Staying on top of the temperature in any room at any given moment has never been easier! Feeling too hot or cold? There is no need to get up from a comfy seat to adjust the temperature. Grab the smart device and voila! The temperature is adjusted and you didn't even need to change positions. When we say anywhere, we mean it. Check and adjust the temperature in a home from your office, school, the grocery store or even from another state.
Savings without sacrificing comfort
Smart thermostats use features such as learning, scheduling, geofencing, they can diagnose problems with HVAC systems and they can send reminders about when it is time to perform maintenance. Heating and cooling use a significant amount of energy. The more efficiently a HVAC system runs, the less energy it will use. A smart thermostat can save money by cooling and heating a home only as much as needed.
Studies show that you can save
"According to data from two independent studies of actual Nest customers, smart thermostats can, on average, save customers between 10-12 percent on heating and 15 percent on cooling. Based on typical energy costs, Nest estimates that the average customer can expect to save roughly $140 per year on energy bills. Of course, this figure can vary significantly based on the size of your home, your energy-related habits and other factors. Based on an internal analysis of its customers from 2013, ecobee claims that their customers can save up to 23 percent on heating and cooling costs, potentially netting customers $200 in savings each year."
Wifi thermostats are also extremely useful to snowbirds. Smart thermostats offer the ability to keep an eye on the HVAC system at a vacation home or condo when no one is there. Receive alerts if something is wrong and the house is too warm or cold. Stay connected with your home to prevent damage and other surprises.
Home control meets cost savings with Palm Air
Palm Air is a provider of quality wifi thermostats, such as the Ecobee SmartThermostat and Honeywell T6 Pro Smart. If the season is right, there are also special offers on these products.
What Else Should A Snowbird Do When Arriving To and Before Leaving Florida?
In most cases HVAC systems will be due for a seasonal maintenance check. It survived the entire summer and now it's time for it to keep the surroundings cool and comfortable during your stay.
Palm Air's NATE certified technicians help to provide safe, long-term solutions rather than temporary fixes to their clients. When a maintenance appointment is scheduled with their team of experts, the aim is to prevent the risk of expensive breakdowns, improve the home's indoor air quality, lower energy bills and provide reliable, efficient home comfort all year long. Here are a few essential points they never miss during a maintenance appointment:
Clean condensing unit
Tighten electrical connections
Clean indoor evaporator coil
Flush condensate drain line
Inspect for refrigerant leaks
Clean or replace air filters
Calibrate thermostat
Evaluate overall efficiency
They also have extended warranty programs that can help save on the cost of repair bills. Here are some benefits to consider from their warranty programs.
Multiple plan options available to suit your needs and your budget
Ability to be easily transferred to new building owners
Coverage for both parts and labor
Up to 10 years of protection available
Palm Air's NATE certified technicians
No deductibles, out of pocket charges or trip charges.
To learn more about Palm Air's maintenance programs and wifi thermostats, call (561) 922-3199.