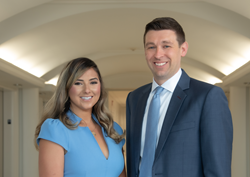 We are excited about the energy she will bring to the office and have great respect for Alyssa and her accomplishments.
ATLANTA (PRWEB) July 09, 2020
Tax and bankruptcy firm Wiggam & Geer is joining forces with the Law Offices of Alyssa Maloof Whatley. The move further strengthens Wiggam & Geer's position as a premier tax and bankruptcy practice in Georgia, and provides clients with additional exceptional legal service. The new arrangement perfectly positions the firm to handle an anticipated rise in bankruptcy filings and debt restructurings as well as address client tax issues related to the pandemic economy.
Whatley's Atlanta-based practice is focused on tax law and bankruptcy. She represents individuals, self-employed individuals, and small to medium-sized businesses in both federal and state tax matters as well as bankruptcy and debt negotiation and defense. Whatley, who is a sought-after speaker both in Georgia and nationally, is the former president of the Metro Atlanta Consumer Bankruptcy Attorney Group and the 2019 recipient of the Distinguished Service Award from the National Association of Consumer Bankruptcy Attorneys.
The move will allow Whatley's clients a broader array of tax and bankruptcy services. "I am pleased to now be able to offer Wiggam & Geer's expertise alongside my own," she said. "We share a similar culture and like-minded approach to client representation, with an emphasis on technical expertise and aggressive strategies to get the best resolution for our clients."
"Alyssa's experience and knowledge base complement our current offerings and will be an added advantage in serving our clients," said Jason Wiggam, founding partner of Wiggam & Geer. "We are excited about the energy she will bring to the office and have great respect for Alyssa and her accomplishments." The new arrangement solidifies years of cooperation between the firms on legal matters.
About Wiggam & Geer
Wiggam & Geer is an Atlanta-based law firm providing tax and bankruptcy legal support to individuals and businesses in Georgia. The firm solves complex tax and financial issues at both the federal and state level. Founding partners, Jason Wiggam and Will Geer, have dedicated their careers to helping clients navigate their way out of financial problems. Their emphasis on careful planning and creative strategies has generated a long track record of successful case resolution and satisfied clients. Learn more about Wiggam & Geer at http://www.wiggamgeer.com.