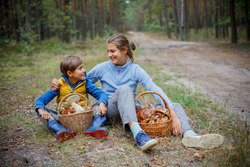 Hunters and anglers have many natural allies in the sustainable harvest of wild resources.
ST. JOHN'S, Newfoundland (PRWEB) March 09, 2020
Conservation Visions is launching a new website, http://www.thewildharvestinitiative.com, for its flagship program, the Wild Harvest Initiative®. The Wild Harvest Initiative® is the first scientific program to assess and communicate the scale, comprehensive value and modern relevance of recreationally harvested wild meat and fish in the United States and Canada.
The new website offers program information and updates about the Initiative and its partnership alliance, and will host a new web-based community platform for wild harvesters – from hunters and anglers to wild mushroom foragers and medicinal plant gathers, and everyone in between – to share photos, videos, stories, recipes, and ideas related to nature and natural harvests. Users have the option to become subscribers or to engage more actively as contributors. The blogging-style platform is very easy-to-use and does not require contributors to be technologically proficient.
The Wild Harvest Initiative® will positively align wild animal harvests with other commonly practiced and well-accepted natural resource use traditions, such as berry-picking, wild beekeeping, and firewood gathering. It will facilitate alliances with other consumptive users of wild products, in addition to healthy lifestyle and green-living advocates, thus creating a wider base of support for wildlife conservation.
About Conservation Visions
Conservation Visions Inc. is a wildlife initiative founded by internationally recognized biologist and conservation advocate, Shane Mahoney. It is dedicated to a world where conservation matters; where biodiversity is safeguarded, including the diversity of human cultural experience; where conservation and citizenship are viewed as inseparable; where a global responsibility to nature is recognized; where the sustainable use of natural resources is safeguarded through knowledge; and where governments make sound decisions concerning conservation and biodiversity, based on scientific and traditional wisdom. To learn more about Conservation Visions, please visit http://www.conservationvisions.com.