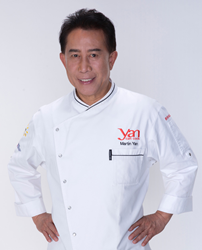 SAN FRANCISCO (PRWEB) August 24, 2018
WildAid announced Martin Yan, renowned T.V. chef and food writer, will be the celebrity guest chef for its annual gala Nov. 10 at the Beverly Wilshire Hotel. Chef Yan will take the lead on curating a four-course vegetarian menu for the 600 guests gathering to raise money toward WildAid's mission to end the illegal wildlife trade.
Chef Yan is best known for hosting his Emmy award-winning PBS-TV cooking show "Yan Can Cook" since 1982. He currently hosts the "Taste of Asia" series on public television and has been likened to "Western cooking show icons such as Julia Child." Chef Yan has written more than 30 cookbooks, co-founded the World Association of Master Chinese Chefs, is a frequent guest chef/lecturer at various culinary institutes and founder and executive chef of M.Y. China in San Francisco.
Every year, WildAid hosts a star-studded gala fundraiser to celebrate progress in protecting endangered species and marine habitats. Tickets and tables for this year's event "An Evening in China" are now available for purchase. The charitable evening will feature 16-time Grammy-award winner David Foster performing with Tony and Emmy award-winner Kristin Chenoweth as well as performances by The Cirque.
WildAid works with high profile ambassadors including Prince William, Leonardo DiCaprio, Lupita Nyong'o, Bryce Dallas Howard, Richard Branson, Bo Derek, Josh Duhamel, Jackie Chan, Yao Ming and more.
Past Gala Attendees include Josh Duhamel, Ian Somerhalder, Nikki Reed, Yao Ming, Fergie, Chevy Chase, Jared Leto, John Corbett, Bo Derek, Michael Cudlitz, Larry King, Hayden Panettiere and many others.
About WildAid
WildAid is a non-profit organization with a mission to end the illegal wildlife trade in our lifetimes. While most wildlife conservation groups focus on protecting animals from poaching, WildAid primarily works to reduce global consumption of wildlife products such as shark fin and elephant ivory by persuading consumers and providing comprehensive marine enforcement. Recent WildAid campaigns such as the #JoinTheHerd initiative have brought together millions of people to speak out about the poaching crisis affecting African elephants. With an unrivaled portfolio of celebrity ambassadors - including Prince William and Yao Ming - and global network of media partners, WildAid leverages $230 million in annual pro bono media support with a simple message: When the Buying Stops, the Killing Can Too. For more information, visit WildAid.org and follow us @WildAid.