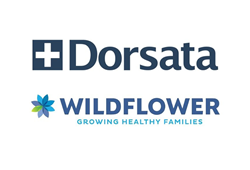 "This technology will help us stay on top of the care our patients are receiving throughout the entirety of their pregnancies."-- Dr. Dan Welling, MD at Women's Health CT.
SAN FRANCISCO and ARLINGTON, Va. (PRWEB) September 03, 2020
In a positive development for women, their families and the Ob-Gyns that care for them, Wildflower Health and Dorsata announced today that they are teaming up to improve pregnancy outcomes. The two companies will deliver a clinically-integrated, digital platform for the Ob-Gyn providers that will enhance patient experience and provider effectiveness for both telehealth visits and in-person office visits during and after pregnancy.
More specifically, this end-to-end solution will fuse Wildflower's personalization engine, which engages expectant mothers and enhances clinical workflows through digital interactions, and Dorsata's maternity management solution, which integrates with a practice's EHR and supports providers in their efforts to deliver care that is founded in clinical best practices. The combined platform will enable intake and biometric data to flow seamlessly into provider workflows, creating a tight connection between patients and their providers, inside and outside the office.
The first Ob-Gyn practice to implement the combined Wildflower/Dorsata solution is Women's Health Connecticut, a leading provider of high-quality women's health care. WHC has more than 250 providers and 90 locations across Connecticut and Massachusetts and delivers over 12,000 babies annually.
WHC patients will use the Wildflower software to complete intake forms, schedule appointments, track their pregnancies and engage with key resources between visits. All data from the patient software will be delivered to Dorsata's software and integrated into WHC's clinical workflow. Providers will receive patient information in advance to help them prepare for visits. Patients will be better equipped as well with education and support from the software. Once the patient arrives for a visit, either in-person or virtually, Dorsata's platform serves up real-time recommendations for physicians based on ACOG guidelines and specific patient data from the EHR.
"While we see our pregnant patients regularly, there is still much that happens in between office appointments. These blind spots have only been exacerbated during the current pandemic. Dorsata and Wildflower have delivered a solution that creates a tight and consistent connection between us and our patients when outside the four walls of our office. This kind of seamless data interoperability is woefully absent from today's health care system. With the Dorsata and Wildflower solution, we are able to review and vet patient-submitted clinical information prior to it being synced directly into our EHR. This technology will help us stay on top of the care our patients are receiving throughout the entirety of their pregnancies," said Dr. Dan Welling, MD at Women's Health CT.
The combined solution will break down silos of care between providers and payers. Wildflower's solution will identify at-risk pregnancies as early as the first trimester. These patients can be flagged for WHC providers and also connected with partnering health plans, which can offer additional care management resources, to support patients who need extra attention between doctor visits.
"We are bringing patients, providers and payers together," said Leah Sparks, Founder and CEO of Wildflower. "If healthcare is going to continue advancing toward a value-based model, we need patients engaged, providers informed and payers aware of how they can assist throughout the process. We are excited that Dorsata shares our vision, and we look forward to achieving optimal health and satisfaction outcomes for families across the country, starting with Women's Health of Connecticut's patients."
"Time and time again, our providers share that the safest care is rooted in open and honest communication with patients, but technology has been slow to accommodate a world moving to virtual visits" said David Fairbrothers, co-founder and CEO of Dorsata. "Our partnership with Wildflower Health creates a direct link between the patient and the provider's primary workflow for informing care, Dorsata and the EHR, making well-coordinated care achievable."
Wildflower's platform streamlines the collection of patient-reported data, digitally enables key workflows such as remote patient visits and pre-visit intake surveys, and connects patients to the right support at the right time via their smart phone or tablet. The app helps with early identification of health issues to ensure that every individual receives the most appropriate level of care and decision support for healthy choices. The app also encourages adherence and compliance with care plans, appointments, vaccinations and preventive health measures. Devices to aid virtual maternity care are delivered to patient homes.
Patients can access personalized calls to action and a tailored newsfeed that delivers gestation-appropriate content, weekly pregnancy checklists and reminders. The app also offers trackers, lifestyle suggestions for nutrition and exercise, and a guide for having discussions about labor and birth preferences with providers.
Dorsata's maternity management software is used for decision support, documentation, obstetrical care plans, order entry, and clinical data reporting. The company helps prevent variations in medical care during maternity, while decreasing the rate of preventable complications. Based on ACOG best practices, Dorsata helps physicians drive a precise plan of care for each patient, tailored for gestational age, pregnancy history, and specific risk factors.
About Dorsata
Dorsata is a digital health company focused on improving maternity outcomes while reducing costs. The ACOG Prenatal Record by Dorsata was built with deep knowledge of Ob-Gyn workflows and with patient safety in mind. The product embeds directly within existing EHR platforms to improve diagnosis, treatment, and provider documentation. The company is based in Arlington, VA.
About Wildflower Health
Wildflower is re-inventing how women connect to care by clinically integrating our digital solutions with the provider, the payer and best-in-class partners to deliver personalized experiences that rival Netflix and Pinterest. We are modernizing healthcare for women and their families, eliminating excess costs and reducing complications while nurturing loyal, long-term relationships between healthcare enterprises and the consumers they serve. Learn more at http://www.wildflowerhealth.com.