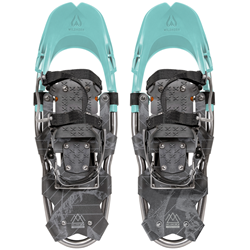 "We've developed a design in the Delano X2 that elevates the snowshoe experience and provides a smooth, comfortable and well supported trek," CEO Mark Thomas
SALT LAKE CITY (PRWEB) January 29, 2021
Wildhorn Outfitters, an outdoor technology company that designs and manufactures recreational products for retail customers, is introducing a new, high-performance line of snowshoes. An evolution of Wildhorn's original Sawtooth snowshoe design, Delano X2 has enhanced features to create a more lightweight, durable, and accessible shoe for all levels of snowshoeing.
"We've developed a design in the Delano X2 that elevates the snowshoe experience and provides a smooth, comfortable and well supported trek," Wildhorn CEO Mark Thomas said. "Over the course of this winter, the number of people taking up snowshoeing or spending more time on shoes has increased exponentially as a sport that allows you to spend time outdoors in a safe and distanced environment, while providing strong cardio and full-body exercise. In a time when many brands struggled to keep up with demand, we're stoked to deliver the Delano in time for the rest of the winter season.
"We re-designed every feature to give you the best gear experience possible. Our team once again delivered a high-level product at an accessible price point. We're excited to introduce the new design to consumers across the US."
The Wildhorn Delano X2 Snowshoe is built with cold-resistant thermoplastic resin on the front decking. This new material is lighter, stronger, and creates more surface area on the deck. This means better flotation and comfort while snowshoeing. The binding is completely redesigned, and the quick-release cinch binding is easier to take on and off while still providing solid, reliable support. The electroplated steel crampon and steel heel riser were upgraded for better traction and support when climbing. Snowshoers have six color options and two sizes to choose from. Available now at Wildhorn Outfitters.
For more information on DELANO X2 and a full range of Wildhorn outdoor gear, visit http://www.wildhornoutfitters.com.
About Wildhorn Outfitters:
Wildhorn Outfitters is an outdoor gear company that believes in making it easy for everyone to share outdoor experiences that celebrate life and strengthen connections. Each of the unique products is specially designed to help people make the most of their time outdoors with thoughtful design elements and durable quality. As an industry leader in technical and design expertise, Wildhorn assists in enhancing outdoor lifestyles everywhere.