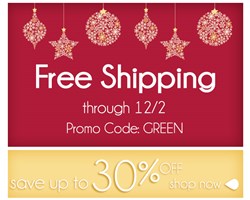 Plantation, FL (PRWEB) November 26, 2013
Wild Mint, a company that offers eco-friendly and toxin-free products for healthier lifestyles on their website, http://www.WildMintShop.com, is offering free shipping and savings of up to 30% off many items through Cyber Monday. The sale, which includes toxin free glass water bottles, safer wooden toys, and kitchen materials among other items, starts on Monday, November 25 and expires on December 2nd, or Cyber Monday, at 12pm EST.
Wild Mint started in 2011 with a mission to help families find safer alternatives to many chemical laden products people use on a daily basis. The company is dedicated to making the process of finding safer, eco friendly products easier for people by being a one-stop shop where they can find thoroughly researched, trusted brands. In addition to their large selection of toxin free, eco friendly products, Wild Mint also shares articles, recipes, and information on toxic chemicals and healthier living.
For Wild Mint's Thanksgiving week sale, shoppers will find savings of up to 30% off regular priced items along with Free Shipping on any size order using the promo code "GREEN" at check out.
About Wild Mint
Wild Mint is dedicated to helping people live eco friendly, healthy and non-toxic lifestyles. Started by a mother of 6 in her quest to find safer alternatives to toxin-laden products, the company shares invaluable knowledge and resources on their website, http://www.wildmintshop.com. On a mission to positively influence people's lives, Wild Mint is a one-stop source for trusted information and safer, more environmentally friendly products.