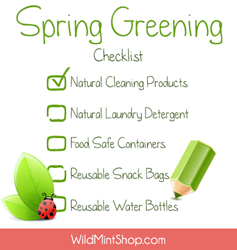 Plantation, FL (PRWEB) March 18, 2014
Wild Mint, an eco friendly, toxin free company that provides a one-stop shop for families to find safer, healthier products, is providing 5 simple tips for greening the home this spring. Many families take time to thoroughly clean and organize the house when the weather starts to get warm, but they may be using products with toxic chemicals that may be harmful to ones health. To help avoid these toxic chemicals, Wild Mint outlines healthier alternatives for an effective spring clean with these 5 tips:
1) Use only Natural, Nontoxic Cleaning Products – Conventional cleaning products can contain potentially unsafe chemicals that may lead to various health issues. Additionally, companies are not required to disclose the chemicals used in their products, so even if they "claim" to be natural, they may not be. To avoid being duped by greenwashing, choose eco friendly cleaning products from companies that disclose all ingredients and can prove they are non toxic, eco friendly, and truly natural.
2) Do Safer Laundry – Traditional detergents may also contain harmful chemicals that can disrupt hormone levels, are linked to certain cancers, and can cause skin allergies and harm waterways. The chemicals used in detergents are also bad for the environment because they aren't readily biodegradable. As a less toxic form of doing laundry, choose detergents made with natural ingredients that won't leave chemical residue on clothing.
3) Organize with Toxin-Free Containers – Whereas plastic containers may contain harmful chemicals such as BPA, phthalates and PVC, safer options like stainless steel and glass food storage containers are nontoxic and non-leaching.
4) Pack Lunch & Snacks in Reusable Bags – Plastic baggies are not only bad for the environment but they have toxic chemicals that may be transferring into food. Instead, opt for reusable bags that don't contain harmful chemicals. For an even more food safe option, get organic cotton sandwich and snack bags.
5) Grab a Non-Toxic Water Bottle – While on-the-go, there are safer options than disposable and reusable plastic bottles, both of which are bad for the environment since they take centuries to decompose and release toxic fumes if incinerated. Plastic bottles are also known to be made with toxic chemicals that can leach into your drinks. In comparison, stainless steel and glass water bottles are non-leaching, non toxic, and can easily be recycled.
For other tips on how to reduce the use of toxic chemicals and create a safer, healthier, and greener home this spring visit http://www.wildmintshop.com/LEARN.
About Wild Mint
Wild Mint is dedicated to helping people live eco friendly, healthy and non-toxic lifestyles. Started by a mother of 6 in her quest to find safer alternatives to toxin-laden products, the company shares invaluable knowledge and resources on their website, http://www.wildmintshop.com. On a mission to positively influence people's lives, Wild Mint is a one-stop source for trusted information and safer, more environmentally friendly products.