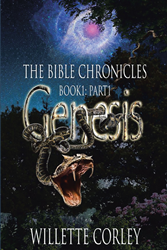 MEADVILLE, Pa. (PRWEB) April 27, 2020
"The Bible Chronicles: Genesis: Book 1: Part 1": an enthralling religious compendium that narrates the formation of the world in divine context, God's hands-on involvement with humanity, and how the world is shaped in spirituality and conviction. "The Bible Chronicles: Genesis: Book 1: Part 1" is the creation of published author Willette Corley, a devoted follower and scribe of God.
Corley shares, "In Primordial Genesis, God takes on the most powerful god of ancient times, His grandmother/mother. Armed with the auras of all the other gods who were unable to defeat her as well as the four (North, South, East, and West) winds, gifts from His uncle, and with the seven powerful winds He created (the atrocious wind, cyclone, hurricane, fourfold, sevenfold, whirlwind and tornado), He makes His way to battle her. With a charming smile, God defeats her and destroys the head of her army. This act guaranteed that He would become the Most High and most powerful God. After this act of war, He is celebrated and when the celebration is over He creates! After six days of creation and saying it is good, He rests on the seventh day and says it is very good!
"God then brings Adam into His personal garden in Eden and has him work the garden. Adam becomes the world's very first gardener! As Adam is working, God saw that it was not good for Adam to be alone, so He caused a deep sleep to come over him and He created Eve. With only one command, 'You can eat of every tree EXCEPT the 'Tree of Knowledge of Good and Evil,' Adam and Eve were bound to this command if they were to stay in God's garden. Armed with Free Will they had multiple trees in the garden that they could choose to eat from including the 'Tree of Life.' Then temptation slithered in with thoughts and ideas that they could have it all and still live their best lives.
"You think you know their story, but do you?"
Published by Christian Faith Publishing, Willette Corley's new book seeks the readers' enlightenment concerning the foundation of the universe and how God always sent His Son, the Word, to break the power of sin by continuously raising, and teaching humanity the way to eternal life by the Grace of God.
This book is an exemplary proof of metaphysical existence that holds reality and life into perspective.
View the synopsis of "The Bible Chronicles: Genesis: Book 1: Part 1" on YouTube.
Consumers can purchase "The Bible Chronicles: Genesis: Book 1: Part 1" at traditional brick-and-mortar bookstores or online at Amazon.com, Apple iTunes store, or Barnes and Noble.
For additional information or inquiries about "The Bible Chronicles: Genesis: Book 1: Part 1," contact the Christian Faith Publishing media department at 866-554-0919.