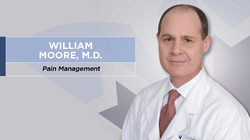 ARLINGTON, Texas (PRWEB) January 13, 2020
Dr. Moore is board-certified in pain medicine and practices interventional pain management in Fort Worth and Arlington, Texas. His main focus is on treatment of the spine. In his practice, he utilizes a wide range of endoscopic spine procedures and minimally invasive techniques to treat neck and back pain.
Born in Laredo, this Texas native earned his Bachelor of Arts in Business Administration from Trinity University in San Antonio. He went on to earn his medical degree at the University of Texas Health Science Center at San Antonio, followed by a residency in Anesthesiology at Ochsner Clinic Foundation Hospital in New Orleans. Dr. Moore then went on to complete his fellowship training in Pain Medicine and Interventional Pain Management at Texas Tech University Health Science Center in Lubbock.
Dr. Moore has always been intrigued by interventional pain management and its dynamic quality. "It's an area of extreme innovation," he says. "In the past, spine treatment involved non-invasive physical therapy or a large surgical intervention. There was not a place in the middle that could affect a patient's quality of life. Now, new developments allow minimally invasive access to specific nerves, joints and discs with very small incisions and a short recovery time. They provide a dramatic change in patients' wellbeing."
Dr. Moore joined PPOA from Capstone Pain and Spine Center, with three locations in the Dallas-Fort Worth area. Prior to joining Capstone and PPOA, he served as an assistant professor in the Pain Management/Anesthesiology Department at Texas Tech University Health Science Center, International Pain Institute.
He is a member of the American Society of Interventional Pain Physicians, the North American Spine Society, Texas Pain Society, Texas Medical Association and the Tarrant County Medical Society.
About PPOA:
Physician Partners of America (PPOA) is a national healthcare organization focused on strengthening the doctor-patient relationship, improving patient outcomes and leading the fight against the opioid crisis. Founded in 2013 and headquartered in Tampa, Fla., PPOA and its affiliates share a common vision of ensuring the wellbeing of patients through interventional and minimally invasive treatments, pain management and laser spine procedures. Its model allows its physician partners to focus on caring for patients in the face of increasingly complex administrative requirements. For more information about Physician Partners of America, visit http://www.physicianpartnersofamerica.com.