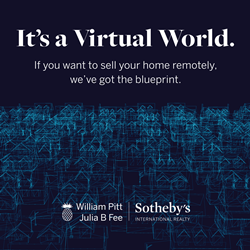 STAMFORD, Conn. (PRWEB) August 06, 2020
William Pitt-Julia B. Fee Sotheby's International Realty announced today that the firm has launched a new program for sellers branded the Virtual Selling Blueprint, developed to provide a comprehensive path for selling property remotely. The blueprint offers sellers and agents a system for completing all phases of the real estate transaction in a virtual world, from listing to showing to closing.
"We are fully equipped with the tools and support to sell any home virtually," said William Pitt Sotheby's International Realty Litchfield County brokerage manager Kristine Newell, who spearheaded the project. "Utilizing our technology, the blueprint not only outlines the entire selling process with step by step instructions and templates, but ensures the seller has full control over how their property is viewed. From the moment the seller contacts us, we work with them to determine how to sell their property in the manner that best fits their needs."
Beginning with an intake form to gather information on a seller's preferences, the blueprint then connects that seller with a technically skilled agent via video chat to tour the property and discuss market value. The agent can be available either through video conferencing or in person with social distancing throughout the selling process, depending on the seller's wishes.
The blueprint also addresses marketing aspects such as virtual home staging and professional photography services including virtual tours and videos. Sellers decide how buyers see their home, whether virtually or in person in accordance with the seller's needs and local guidelines. Offers and contracts can be reviewed and signed electronically.
"The virtual selling blueprint provides the most cutting-edge technology and every option for making sales as easy and safe as possible," said Paul Breunich, President and CEO of William Pitt-Julia B. Fee Sotheby's International Realty. "Buyers and sellers alike can get all the way to closing day from the comfort of their computer screens if they choose."
More information on the Virtual Selling Blueprint and the seller intake form is available on the company's website.
The blueprint is one of several new initiatives the company has undertaken recently to adapt to a virtual selling environment. In May, the company launched a new digital marketing suite branded Listing 360°, designed to drive consumers to interactive property brochures capable of highlighting any listing-related element from photos to embedded 3D tours and videos, floor plans, property disclosures and more. Most recently, the company created its "A Market Unrivaled" marketing campaign to inform those potentially thinking of listing of the current unprecedented seller's market in the areas the company serves.
###
About William Pitt-Julia B. Fee Sotheby's International Realty
Founded in 1949, William Pitt-Julia B. Fee Sotheby's International Realty manages a $4 billion portfolio with more than 1,000 sales associates in 26 brokerages spanning Connecticut, Massachusetts, and Westchester County, New York. William Pitt-Julia B. Fee Sotheby's International Realty is one of the largest Sotheby's International Realty(R) affiliates globally and the 37th-largest real estate company by sales volume in the United States. For more information, visit the website at williampitt.com.
Sotheby's International Realty's worldwide network includes nearly 1,000 offices throughout 71 countries and territories on six continents.