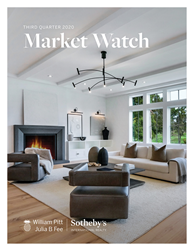 STAMFORD, Conn. (PRWEB) October 06, 2020
A report detailing market results for the third quarter of 2020 in Fairfield and Litchfield Counties, the Shoreline and the Farmington Valley in Connecticut, the Berkshires in Massachusetts, and Westchester County, New York, has just been released by William Pitt-Julia B. Fee Sotheby's International Realty, the company announced today.
Closings and contracts year to date are dramatically higher than sales results from the first three quarters of 2019. The report stated that properties are going into contract at a pace surpassing all projections, surging to unprecedented heights in July, August and September in every territory the company serves. To illustrate, the firm compiled for this report pending sales data for the last 60 days of the quarter. In Westchester County, single family contracts increased by 82% in units and 110% in dollar volume versus the same 60-day timeframe in 2019. Fairfield County saw similar growth, with contracts increasing by 79% in units and 117% in dollar volume. The Connecticut Shoreline, encompassing New Haven, Middlesex and New London counties, witnessed contract increases of 31% in units and 62% in volume, while the Farmington Valley region of Hartford County saw increases of 19% in units and 30% in volume. Litchfield County's contract increases saw units up by 46% and volume by 87%, and Berkshire County's property contracts also increased significantly, with units up by 35% and volume by 75%. For perspective, a positive year might see pending sales ticking up by percentages in the single to low double digits.
Since contracts forecast closings still to come, the report noted that an upswell in pending sales comes before a flood of closed sales expected to follow. Westchester County was subject to the latest reopening of the company's markets, as well as the greatest restrictions on showing houses during the lockdown period, so it remains the one market where closings still trail behind pending sales. Year to date, unit sales across the county have lagged behind the first three quarters of 2019 by 4%. But units inched up in the third quarter by 5% versus the same quarter last year, even as quarterly dollar volume leaped ahead by 20% with more higher priced properties transacting, bringing the full year to date volume up by 5% versus the first three quarters of 2019.
In other markets, closings are far ahead of 2019. Everywhere, dollar volume increases are higher than unit sales, pointing to more sales at higher prices. In Fairfield County, quarterly unit sales and dollar volume increased by 43% and 82%, respectively, sending year to date units ahead by 17% and volume by 40%. The Shoreline witnessed quarterly increases of 18% in units and 39% in volume, bringing year to date unit sales up by 3% and volume by 12%. The Farmington Valley found unit sales climbing ahead by 16% and volume by 20% this quarter, with year to date unit sales now standing ahead of 2019 by 10% and volume by 12%. In Litchfield County, quarterly unit sales increased by 32% and volume by 95%, as year to date, units increased by 16% and volume by 51%. Berkshire County unit sales rose by 26% and volume by a 70% for the quarter, while year to date, units are ahead of 2019 by 9% and volume by 34%. Across all markets, there was a rise in 12-month median selling prices, which increased by 3% in the Farmington Valley, 5% in Westchester County, 7% in the Shoreline region, 9% in Berkshire County, 12% in Fairfield County and 15% in Litchfield County.
The report found that a primary driver of the sales surge is the large increase in New Yorkers relocating from the city to the suburbs as the pandemic continues. The report also noted a significant comeback in September for consumer confidence, which experienced its largest rebound in 17 years.
"In light of the substantial declines we experienced throughout much of the second quarter as the pandemic shut down the economy, it is all the more remarkable how dramatically sales eclipsed those of 2019 by the end of the third," said Paul Breunich, President and Chief Executive Officer of William Pitt-Julia B. Fee Sotheby's International Realty. "A level of buyer demand has been unleashed unlike any we've ever seen. We believe the movement from New York City will continue to drive unparalleled demand in our markets for the foreseeable future."
For the full discussion of the significant increase in market activity, please read the Third Quarter 2020 Market Watch on the firm's website at williampitt.com.
###
About William Pitt-Julia B. Fee Sotheby's International Realty
Founded in 1949, William Pitt-Julia B. Fee Sotheby's International Realty manages a $4 billion portfolio with more than 1,000 sales associates in 26 brokerages spanning Connecticut, Massachusetts, and Westchester County, New York. William Pitt-Julia B. Fee Sotheby's International Realty is one of the largest Sotheby's International Realty(R) affiliates globally and the 43rd-largest real estate company by sales volume in the United States. For more information, visit the website at williampitt.com.
Sotheby's International Realty's worldwide network includes nearly 1,000 offices throughout 71 countries and territories on six continents.