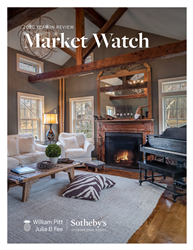 STAMFORD, Conn. (PRWEB) January 11, 2021
A report detailing market results for the year 2020 in Fairfield and Litchfield Counties, the Shoreline and the Farmington Valley in Connecticut, the Berkshires in Massachusetts, and Westchester County, New York, has just been released by William Pitt-Julia B. Fee Sotheby's International Realty, the company announced today.
The report found that during the third and fourth quarters of 2020, single family home sales and dollar volume increased by double and sometimes even triple digit percentages on a weekly, monthly and quarterly basis versus the same periods of the prior year in every market served by the firm.
In the fourth quarter of 2020, Fairfield County single family unit sales were up 75% and dollar volume 145% compared to the fourth quarter last year, while neighboring Westchester County saw unit sales rise by 58% and volume by 88%. Units increased by 45% and volume by 91% on the Connecticut Shoreline, as Litchfield County experienced unit growth of 63% and volume growth of 142%, and the Farmington Valley saw units up by 40% and volume by 62%. In the Berkshires, units increased by 47% and volume by 123%.
Pending sales witnessed significant increases as well, with residential contracts soaring over the summer and fall to record heights and remaining at these levels as the year concluded. The pipeline of contracts potentially will lead to a robust first quarter in closed sales, the company said.
For the last 60 days of the quarter, single family contracts in Fairfield County increased by 55% in units and 120% in dollar volume compared to the final 60 days of 2019. Westchester County pending sales saw an uptick of 37% in units and 57% in volume. In the Connecticut Shoreline region of New Haven, Middlesex and New London Counties, pending unit sales rose by 22% and volume by 15%. Litchfield County's units increased by 61% and volume by 90%, and Hartford County's Farmington Valley saw units remain flat with volume increasing by 12%. Only Berkshire County saw a decline in pending unit sales by 27%, even as dollar volume grew by 16%.
Across all regions, pending and closed dollar volume was higher than pending and closed unit sales, a sign of more properties transacting for higher prices. The 12-month median selling price was higher than last year in every market, increasing by 19% in Fairfield County, 12% in Westchester County, 13% on the Shoreline, 23% in Litchfield County, 6% in the Farmington Valley and 20% in Berkshire County.
The report explored the reasons for the notable increases, suggesting that the demand is largely fueled by New Yorkers who want to leave the city due to multiple factors including: the widespread trend toward remote working, uncertainty surrounding school closures and hybrid schedules, the decimation of small businesses due to reduced customer demand, discussion among policymakers of potentially increasing taxes on the wealthy in major cities, and even a major increase in crime in New York City.
"With New York City residents flying to the suburbs in ever greater numbers, the data indicates we're unlikely to see a lull in the demand we're seeing anytime soon," said Paul Breunich, President and Chief Executive Officer of William Pitt-Julia B. Fee Sotheby's International Realty. "Looking ahead, we have every reason to believe the extraordinary market in which we find ourselves will continue well into the future."
The 2020 Year in Review Market Watch is available on the firm's website at williampitt.com.
###
About William Pitt-Julia B. Fee Sotheby's International Realty
Founded in 1949, William Pitt-Julia B. Fee Sotheby's International Realty manages a $4 billion portfolio with more than 1,000 sales associates in 26 brokerages spanning Connecticut, Massachusetts, and Westchester County, New York. William Pitt-Julia B. Fee Sotheby's International Realty is one of the largest Sotheby's International Realty(R) affiliates globally and the 43rd-largest real estate company by sales volume in the United States. For more information, visit the website at williampitt.com.
Sotheby's International Realty's worldwide network includes nearly 1,000 offices throughout 71 countries and territories on six continents.