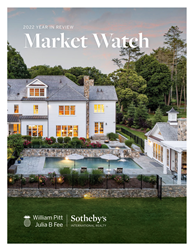 STAMFORD, Conn. (PRWEB) January 04, 2023
A report detailing market results for the year 2022 in Fairfield and Litchfield Counties, the Shoreline and the Farmington Valley in Connecticut, the Berkshires in Massachusetts, and Westchester County, New York, has just been released by William Pitt-Julia B. Fee Sotheby's International Realty, the company announced today.
The report found that sales for the fourth quarter of 2022 dipped by several percentage points more than sales for the entire calendar year in comparing those timeframes to the same periods in 2021. For example, the quarter saw Fairfield County single family unit sales and dollar volume down from the same time last year by 34% and 32%, respectively, while in Westchester County unit sales were lower by 26% and closed dollar volume by 27%. All other markets served by the company were down by similar percentages.
The slowdown was not entirely consistent across all price sectors. While the lowest price ranges decreased anywhere from 15 to 30% across markets, several territories notably experienced growth in their upper price tiers. Closed sales from $2 to $5 million in Westchester County increased this quarter over the same period last year, New Haven County saw significant increases of closed units over $400,000 and Hartford County witnessed sales growth over $700,000. These increases served as part of the reason average sale prices continued to rise, though not at the same pace as prior quarters. The mix of properties selling moved more into the luxury markets, skewing average prices higher. Appreciation was another factor sending averages upward as properties across the spectrum achieved higher sale prices.
The report stated that the balance of supply and demand was the primary contributor to the price appreciation. Exceptionally low inventory, combined with unparalleled buyer demand from New York since the pandemic began in the spring of 2020, has created a highly competitive buying environment. Fewer owners have listed their homes, wishing to avoid entering the challenging purchasers' marketplace themselves, and faced with the additional prospect of doubling their low mortgage rates should they want to move.
Nevertheless, the market still performed above historical norms. Using as a benchmark the pre-pandemic year of 2019, the last time the housing market could be considered a normal marketplace, the report found that closed dollar volume increased over the fourth quarter of 2019 in every region.
"Our forecast for the next year is that our markets will normalize further and begin to align more closely with 2019," said Paul Breunich, Chairman and Chief Executive Officer of William Pitt-Julia B. Fee Sotheby's International Realty. "In our local markets, persistent buyer demand continues to emanate from New York, leaving us cautiously optimistic that sales will improve in the second quarter of 2023 as more inventory arrives. Homeowners thinking of bringing their properties to the market can still benefit greatly from the unprecedented supply and demand dynamics currently at play."
The 2022 Year in Review Market Watch is available on the firm's website at williampitt.com.
About William Pitt - Julia B. Fee Sotheby's International Realty
Founded in 1949, William Pitt - Julia B. Fee Sotheby's International Realty manages a $7 billion portfolio with more than 1,100 sales associates in 27 brokerages spanning Connecticut, Massachusetts, and Westchester County, New York. William Pitt - Julia B. Fee Sotheby's International Realty is one of the largest Sotheby's International Realty(R) affiliates globally and the 37th-largest real estate company by sales volume in the United States. For more information, visit the website at williampitt.com.
Sotheby's International Realty's worldwide network includes 1,000 offices throughout 79 countries and territories on six continents.