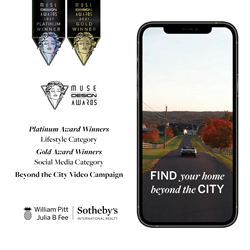 STAMFORD, Conn. (PRWEB) April 21, 2021
William Pitt – Julia B. Fee Sotheby's International Realty, the premier real estate firm serving Connecticut, Westchester County, N.Y., and the Berkshires, Mass., walked away from the 2021 Muse Creative Awards with two major wins, clinching the Platinum award in the Lifestyle category and Gold in the Social Media category.
The MUSE Awards is a series of international competitions hosted by the International Awards Associate (IAA), catering to professionals from various industries to promote excellence in their respective fields. With over 3,900 entries from all over the world, the competition is one of the leading programs in honoring creative and design excellence.
William Pitt – Julia B. Fee Sotheby's International Realty was recognized in the awards for its successful "Beyond the City" video campaign, developed to target New York City residents seeking to relocate to markets represented by the firm. With the New York suburbs experiencing a significant increase in buyers as a direct response to the COVID-19 pandemic, the company set out to create a campaign aimed at sharing the firm's local knowledge and market expertise with those new to the area. Organic and paid promotions ran on Facebook, Instagram and YouTube, while Google Adwords was used for display retargeting and keyword campaigns.
"Our goal with this campaign is to further capture those potential buyers expressing interest in moving from New York City to the beautiful suburban communities we serve, while supporting our agents as they help their clients find their dream homes beyond the city," said Ashley Breunich, Vice President of Marketing with William Pitt – Julia B. Fee Sotheby's International Realty. "We are so thrilled and humbled to be recognized for our efforts by such a prestigious association. The honor goes to our entire staff of creative marketing professionals, a team I'm proud to work with every day."
"There is a saying that 'there is nothing new under the sun'," said Kenjo Ong, CEO of IAA. "It couldn't be any further from the truth – there is always something fresh and exciting from the competitors every year."
Grand Jury Panel
IAA ensures impartiality and strict assessment criteria with a jury of industry professionals who exhibit high standards of excellence. Jurors numbered as many as 44 from 23 countries. These individuals are known professionals belonging to leading companies from the creative and digital industries, such as Director of DNgroup Aps Frederick Rickmann, Head of User Experience of Huawei Sebastiano Boni, Owner and Founder of UArchitects Misak Terzibasiyan, Associate Creative Director of MullenLowe Renato Barreto, Associate Creative Director/Creative Catalyst of FCB Chicago Alice Crippa, Marketing Manager of Facebook Min Lu, Chief Innovation Officer and ONU/UN WOMEN Alejandro Calero. Every entry is evaluated using standards found in their respective industries to ensure impartiality, blind judging is exercised, and jurors are only able to assess each entry purely on its own merits.
Participation of International Brands
Garnering worldwide interest, the MUSE Creative and MUSE Design Awards saw names of renowned organizations from all over the world in its list of entries. These included PlusOne, Holition, 360i, Walmart, Fiverr, AARP, Leica Geosystems, part of Hexagon, Les Ateliers Louis Moinet SA, Influence Associates, GARDE CO., LTD., Bishop Design by Paul Bishop, Mercurio Design Lab S.r.l., Studio Roosegaarde, Omdesign, Subaru USA, Riot Games, Cineplex, BBC Studio Events, KFC, Burberry Beauty, Hyundai, Jo Malone London, Mondelez International, Inc. (OREO), Disney+ SG, CVS, IFFCO UAE, Thompson Dallas, Lynk & Co, Sime Darby Property Berhad, and Yamaha Motor Company.
"Our platform exists to promote and encourage excellence in different bodies of professionals in varying industries," Ong said. "Given the recent pandemic, the team in IAA is continuously humbled by the sheer perseverance and willpower shown by people in overcoming the odds in their respective industries. As long as this platform exists, we will continue to sing praises of those who in adversity displayed their mettle, embodying excellence regardless of their environment."
More information on the MUSE awards can be found at: MUSE Creative Awards / MUSE Design Awards.
William Pitt – Julia B. Fee Sotheby's International Realty's Platinum award landing page can be viewed here.
The firm's award-winning "Beyond the City" videos can be viewed on YouTube here.
About William Pitt - Julia B. Fee Sotheby's International Realty
Founded in 1949, William Pitt - Julia B. Fee Sotheby's International Realty manages a $5.9 billion portfolio with more than 1,100 sales associates in 26 brokerages spanning Connecticut, Massachusetts, and Westchester County, New York. William Pitt - Julia B. Fee Sotheby's International Realty is one of the largest Sotheby's International Realty(R) affiliates globally and the 37th-largest real estate company by sales volume in the United States. For more information, visit the website at williampitt.com.
Sotheby's International Realty's worldwide network includes nearly 1,000 offices throughout 72 countries and territories on six continents.