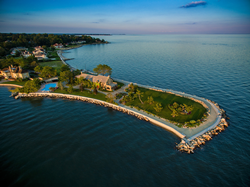 STAMFORD, Conn. (PRWEB) September 16, 2021
William Pitt Sotheby's International Realty announced today the record sale of a historic waterfront property on the Shippan Point peninsula in Stamford, Conn. The listing sold for $7,500,000, setting a record for the highest ever residential waterfront property sale in Stamford, Conn., as well as the highest residential Stamford sale city-wide in 18 years and the second highest in the city's history, according to SmartMLS.
The sale was handled by listing agents Robert Blosio and Larry Palma from the company's New Canaan brokerage.
The unique property, known as Saddle Rock House, was built in 1914 by Richard Howland Hunt and Joseph Howland Hunt—the architect brothers behind Beacon Towers in Sands Point, Long Island, once owned by William Randolph Hearst and the inspiration for the Great Gatsby, as well as other well-known projects. Hunt & Hunt built the Saddle Rock house for the inventor Thomas Robins, best known for creating the rubber conveyor belt while working for his friend Thomas Edison.
The property was used as a lookout guarding Stamford and New York Harbors during the two World Wars, hosting a cannon on site. The home is also locally well known as the "Bear House" for the large bear statue that introduces the property at its gated entry.
"It's been a great honor to participate in such a significant part of Stamford's history," said Blosio and Palma. "This is a property that blends the essence of timeless design by a renowned architect with touches of reimagined elegance and modern sophistication. Working on the sale of this true legacy waterfront estate has proven a ¬highly rewarding experience."
Crafted with ashlar quarried stone and a Belgian slate roof, and designed with definitive circular arches framing doorways and windows, the residence has been newly updated to include a new kitchen with custom cabinets and granite counters, smart home technology, a renovated cellar with a vintage, temperature-controlled wine cellar, and custom tilt-and-turn windows. The home features views of the Sound extending from the Stamford Harbor Lighthouse to the Manhattan skyline.
The waterfront property also has a heated saltwater pool with large covered stone grotto, pool deck with cabana, boat launch, specimen gardens and fountains, lighted tennis court, stone guest cottage and a Bonsai tree at the peninsula's tip.
The listing can be viewed on the company's website here.
About William Pitt - Julia B. Fee Sotheby's International Realty
Founded in 1949, William Pitt - Julia B. Fee Sotheby's International Realty manages a $5.9 billion portfolio with more than 1,100 sales associates in 26 brokerages spanning Connecticut, Massachusetts, and Westchester County, New York. William Pitt - Julia B. Fee Sotheby's International Realty is one of the largest Sotheby's International Realty(R) affiliates globally and the 37th-largest real estate company by sales volume in the United States. For more information, visit the website at williampitt.com.
Sotheby's International Realty's worldwide network includes 1,000 offices throughout 75 countries and territories on six continents.