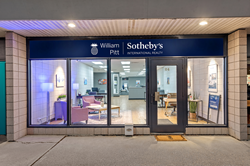 NIANTIC, Conn. (PRWEB) May 04, 2021
William Pitt Sotheby's International Realty today announced that the firm has opened a new office in Niantic, Conn., expanding the company's foothold in New London County and along the Connecticut Shoreline. The brokerage joins the firm's Old Lyme brokerage to become its second New London County location.
The Niantic brokerage manager will be Heather Gagnon, who also serves as the manager for the company's Old Lyme brokerage. Gagnon was recently named William Pitt Sotheby's International Realty's Manager of the Year, chosen for the honor from among 17 managers company-wide. In 2020, Gagnon significantly increased the Old Lyme office's production levels, attracting some of the region's highest producing agents by dollar volume.
The new Niantic office is opening with a sales force comprising 21 sales associates including top producers Stacey Wyeth, Deb Fountain, Leslie Timmons, Beth Brucker, Maris LeBlanc, Dave Thomas, Patty Heenan and Bonnie Nault.
The company will host a special grand opening celebratory event at the new brokerage location at 24 Pennsylvania Avenue. The event will be held on June 23, 2021, providing agents with the opportunity to mingle and network with the company's senior leadership as well as special guest East Lyme First Selectman Mark Nickerson. All CDC protocols will be fully observed at the grand opening.
"We are excited to grow our presence in this highly sought-after market region by establishing a key office location in one of New London County's premier destinations," said Paul Breunich, President and Chief Executive Officer of William Pitt Sotheby's International Realty. "In addition, we are launching with a fantastic team of sales professionals in place, each with deep knowledge and extensive experience on the Connecticut Shoreline."
The only coastal community in Connecticut where Main Street runs alongside the Long Island Sound, Niantic is a quaint and historic seaside village with fine restaurants, boutique shopping, water-related activities and a mile-long boardwalk. Bordered by Niantic Bay and the Niantic River, the village is easily accessible to attractions including Mystic Seaport and Aquarium as well as Mohegan Sun and Foxwoods casinos.
About William Pitt - Julia B. Fee Sotheby's International Realty
Founded in 1949, William Pitt - Julia B. Fee Sotheby's International Realty manages a $5.9 billion portfolio with more than 1,100 sales associates in 26 brokerages spanning Connecticut, Massachusetts, and Westchester County, New York. William Pitt - Julia B. Fee Sotheby's International Realty is one of the largest Sotheby's International Realty(R) affiliates globally and the 37th-largest real estate company by sales volume in the United States. For more information, visit the website at williampitt.com.
Sotheby's International Realty's worldwide network includes 1,000 offices throughout 75 countries and territories on six continents.