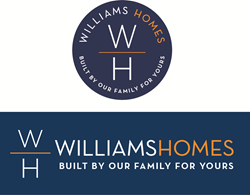 The new Williams Homes logo is both a nod to the past, and an embodiment of the company's future.
LOS ANGELES (PRWEB) March 05, 2021
Williams Homes, one of the largest residential builders and developers in the Western United States, has unveiled a new brand identity representative of the company's longstanding commitment to its family of homebuyers. The transformation characterizes a significant milestone in the company's 25-year history as a family-owned and operated homebuilder.
The new Williams Homes logo is both a nod to the past, and an embodiment of the company's future by elevating Williams' distinctive blue and orange color palette – colors that reflect the strength, enthusiasm, and warmth that Williams shares with its customers, communities, and employees. The solid blue ground, which has long been part of the Williams logo, has been reshaped to house the company's new tagline and branding initials. The fresh look includes two logo variations for use in various marketing and communications arenas, and a new tagline that promotes the company's core values: Built by our family for yours.™
"We are excited to introduce the new branding to our homeowners and homebuyers," says Lance Williams, president and CEO of Williams Homes. "Our new logo and tag line strengthen our mission to provide our customers with the best homebuying experience possible as we continue our expansion plans throughout the West."
Williams Homes' brand transformation includes a new logo, inspirational tag line and marketing campaign launching this spring that delivers a strengthened message that speaks directly to today's homebuyers featuring inspiring stories of people enjoying the moments they create in their Williams' home. The brand is centered on the promise that Williams Homes delivers homes that begin with a family approach in developing the right people, process, and technology to deliver the highest level of quality, reliability, and attainability for its family of homeowners.
Timing for the company's rebranding coincides with the celebration of its 25th anniversary this year marking a major milestone in Williams Homes' longstanding history of homebuilding in California. Founded in 1996 by Lance and Sadie Williams, Williams has grown substantially through the years actively responding to the needs of homebuyers. Today, the company is comprised of six divisions including Southern California, Central Coast California, Northern California, Montana, Idaho, and Texas.
"It is a distinct honor for Williams Homes to be the builder of choice for our customers," adds Williams. "Celebrating this milestone as a company is very gratifying. It seems like twenty-five years passed by in the blink of an eye, but we could not be prouder of what Williams stands for today. Our success is shared with our talented, creative, motived, forward-thinking, and hard-working team that stands behind us – every one of our employees is an integral part of what we do each day. They are the reason Williams Homes is what it is today, and we look forward to our future growth together."
For more information on Williams Homes, please visit http://www.williamshomes.com.
About Williams Homes
Williams Homes is a residential homebuilder based in Los Angeles, California that specializes in building high-quality new homes for families. Founded in 1996, the privately-owned company has built thousands of homes throughout California during the last two decades and has recently begun out-of-state operations in Montana, Idaho, and Texas. Committed to insightful design and superior craftsmanship, Williams Homes continues to set a new standard in homebuilding and ultimately, the customer experience.