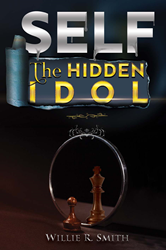 "The real you is someone who loves to love God with all your heart, soul, mind, and strength… This was made possible when you received Jesus in your life. The time has come where we must destroy the fake idol of self, the lies of Satan that are determined to have you live independently of God."
LAWRENCEVILLE, Ga. (PRWEB) March 27, 2020
Willie R. Smith, a native of Shiloh, Georgia, has been teaching audiences about the Word of God for decades as a missionary. Other than having worked at DeKalb Medical, he joined several apostolic missions and Bible study groups and served as Assistant Pastor in The Christian and Missionary Alliance in Gainesville, GA. He was then tasked by God to ponder more on the meaning of renewal and how a person embraces his or her new Christ-driven identity.
In 2016, Willie answered the Lord's call and founded a 501(c)(3) nonprofit, discipleship, faith-based ministry named New Creation 517, Inc. He is currently running it as its president. Willie also served as a full-time missionary on the Navajo reservation and ran different Christian blogs before writing his new book titled Self: The Hidden Idol. He still continues serving the Lord with the help of his wife Shengxi.
The book shows how people, despite being saved, revert to sinful habits after falling for the temptation of the enemy disguised as idolizing oneself. However, true self-worth manifests not from how people view themselves from but from how they see themselves through the Lord's Word and through enlightenment with help from the Holy Spirit.
Self: The Hidden Idol presents eye-opening points of reflection meant for individuals who have yet to accept Jesus as their Lord and Savior. However, that does not mean that Christians who have surrendered themselves to His Will are exempted from the temptations and moral challenges every undecided skeptic faces daily. If anything, the author's lesson on breaking sinful habits will be just as liberating to the more devout worshipers of God. This is because it urges them to defect from these toxic habits and leave room in their hearts for God's love and nothing else.
"The real you is someone who loves to love God with all your heart, soul, mind, and strength, and you take great delight in loving your neighbor as yourself". The author reminds readers that it was only through the love of the Lord that mankind was saved and forever changed through love. All that's left is for people to fully embrace the change. "This was made possible when you received Jesus in your life. The time has come where we must destroy the fake idol of self, the lies of Satan that are determined to have you live independently of God."