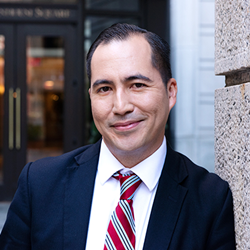 PHILADELPHIA (PRWEB) February 11, 2020
Pennsylvania labor, employment and workers' compensation law firm Willig, Williams & Davidson is proud to announce that it has added Robert J. Cervone to its team of skilled legal advocates.
An associate at Willig, Williams & Davidson, Cervone focuses his practice on family law, criminal defense law, and prepaid legal services for working men and women. He prides himself on preparation and brings a practical approach to any legal issue while making sure his clients understand the law, the procedures involved, and the potential outcomes.
Cervone has dedicated most of his legal career to representing indigent clients and believes that the most successful attorney-client relationships are built upon communication and trust. In moving through the ranks as an assistant defender with the Defender Association of Philadelphia, he managed cases throughout all stages of the criminal justice system and tried hundreds of cases from misdemeanor bench trials to complex felony jury trials. He also served as a judicial law clerk in family court, experience which gave him insight into the legal system from a judicial perspective.
Cervone earned a bachelor's degree from Temple University before going on to earn his law degree from Widener University School of Law. He lives in Philadelphia.
About Willig, Williams & Davidson – Willig, Williams & Davidson (http://www.wwdlaw.com) is one of the largest and most respected union-side labor law firms in the United States. The firm has offices in Philadelphia, Harrisburg, and Jenkintown Pa., as well as Haddonfield, N.J., and Chicago, Ill. Founded in 1979, Willig, Williams & Davidson focuses on representing labor unions, employee benefit funds and individual working people and their families on a variety of legal fronts, including national, regional and local contract negotiations; election and campaign finance; dispute resolution through mediation, arbitration and litigation; family law matters; benefits law design and compliance issues; discrimination, overtime and unpaid wages, and other employment matters; prepaid legal services for union members; social security disability; and workers' compensation matters in Philadelphia and beyond. Workers inspire us.