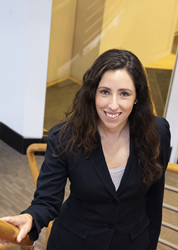 PHILADELPHIA (PRWEB) July 21, 2020
Pennsylvania labor, employment and workers' compensation law firm Willig, Williams & Davidson is pleased to announce that attorney Jessica C. Caggiano recently presented at the AFL-CIO Lawyers Coordinating Committee (LCC) webinar on bargaining issues during COVID-19.
The webinar was organized by the AFL-CIO LCC, a national membership organization with more than 2,100 lawyers from more than 500 union-side law firms and legal departments nationwide. Its mission is to facilitate the exchange of information and strategies, mobilize union-side lawyers in labor movement programs, provide legal education and networking opportunities, and assist members in recruiting and retaining new lawyers and lawyers of color.
Caggiano focuses her practice on labor and employment law, advocating for union and worker rights. Her work includes handling labor arbitrations, contract bargaining and litigation for public and private sector unions. She also provides advice, training and presentations on subjects ranging from workplace discrimination and social media use in the workplace to grievances and labor arbitration. She has been named among Pennsylvania's Rising Star attorneys as a part of the Pennsylvania Super Lawyers awards program by Thomson Reuters.
Prior to joining Willig, Williams & Davidson, Caggiano worked on behalf of public-sector workers as counsel for the New York State Public Employees Federation, AFL-CIO and the Pennsylvania State Education Association. For more than six years, she was a member of USW Local 9265 where she served as a union health benefits committee member.
About Willig, Williams & Davidson – Willig, Williams & Davidson (http://www.wwdlaw.com) is one of the largest and most respected union-side labor law firms in the United States. The firm has offices in Philadelphia, Harrisburg, and Jenkintown Pa., as well as Haddonfield, N.J., and Chicago, Ill. Founded in 1979, Willig, Williams & Davidson focuses on representing labor unions, employee benefit funds, and individual working people and their families on a variety of legal fronts, including national, regional and local contract negotiations; election and campaign finance; dispute resolution through mediation, arbitration and litigation; family law matters; benefits law design and compliance issues; discrimination, overtime and unpaid wages, and other employment matters; prepaid legal services for union members; social security disability; and workers' compensation matters in Philadelphia and beyond. Workers inspire us.