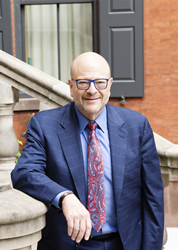 PHILADELPHIA (PRWEB) June 16, 2020
Pennsylvania labor, employment and workers' compensation law firm Willig, Williams & Davidson is proud to announce that partner Stuart W. Davidson will serve as a co-chair of the Los Angeles Alliance for a New Economy (LAANE) Advisory Board.
In 2018, Davidson joined the advisory board of LAANE, which is the largest social justice advocacy group on the West Coast. In 2019, he was honored at the organization's City of Justice Awards in Los Angeles which recognizes outstanding leaders who help to improve the lives of working people. Davidson joins LAANE Advisory Committee co-chairs Julie Gutman Dickinson, partner at Bush Gottlieb, and Scott Pascucci, chief executive officer at Concord.
Tirelessly advocating for labor unions and the workers they represent, Davidson represents public and private benefit funds, fighting to preserve the ability of workers to retire with dignity and have access to affordable health care. His work for unions includes leading contract negotiations, presenting interest and grievance arbitrations and advising on external and internal union matters. Davidson serves as chief counsel to large regional and local unions along the East Coast and the Gulf Coast and in the Chicago area.
Consistent with his efforts on behalf of workers, Davidson is committed to community and public service, having served on various nonprofit boards for decades. Known for his signature energy, humor, and passion, he has helped generate significant private-sector support for nonprofits working on criminal justice reform, education, economic growth and more.
LAANE is a nationally recognized advocacy organization dedicated to building a new economy for all. Combining dynamic research, innovative public policy, and strategic organizing of broad alliances, LAANE promotes a new economic approach based on good jobs, thriving communities, and a healthy environment.
To learn more, visit the firm's website.
About Willig, Williams & Davidson – Willig, Williams & Davidson (http://www.wwdlaw.com) is one of the largest and most respected union-side labor law firms in the United States. The firm has offices in Philadelphia, Harrisburg, and Jenkintown Pa., as well as Haddonfield, N.J., and Chicago, Ill. Founded in 1979, Willig, Williams & Davidson focuses on representing labor unions, employee benefit funds and individual working people and their families on a variety of legal fronts, including national, regional and local contract negotiations; election and campaign finance; dispute resolution through mediation, arbitration and litigation; family law matters; benefits law design and compliance issues; discrimination, overtime and unpaid wages, and other employment matters; prepaid legal services for union members; social security disability; and workers' compensation matters in Philadelphia and beyond. Workers inspire us.