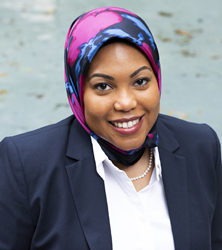 PHILADELPHIA (PRWEB) January 29, 2020
Willig, Williams & Davidson is proud to announce that partner Aneesah El-Amin-Jaamia has been elected to serve as secretary of the Philadelphia Bar Association's Family Law Section for the 2020 term.
This role is the first step in a succession of officer roles that is expected to see El-Amin-Jaamia serving as Chair of the section in four years; she will serve as secretary this year, treasurer the following year, and Chair-elect the year after that, culminating her service by serving as chair of the section in 2023.
El-Amin-Jaamia focuses her practice on family law. A partner with the legal services practice group at Willig, Williams & Davidson, she guides clients through divorce, support, custody, equitable distribution of property, adoptions and domestic violence matters.
In addition to the Philadelphia Bar Association, El-Amin-Jaamia also is a member of the Nicholas J. Cipriani Family Law American Inn of Court, which was founded to promote professionalism, ethics, camaraderie and education among the bench and bar.
She holds a bachelor's degree from Temple University and a law degree from Temple University's James E. Beasley School of Law. To learn more, visit the firm's website at http://www.wwdlaw.com/
About Willig, Williams & Davidson – Willig, Williams & Davidson (http://www.wwdlaw.com) is one of the largest and most respected union-side labor law firms in the United States. The firm has offices in Philadelphia, Harrisburg, and Jenkintown Pa, as well as Haddonfield, N.J., and Chicago, Ill. Founded in 1979, Willig, Williams & Davidson focuses on representing labor unions, employee benefit funds and individual working people and their families on a variety of legal fronts, including national, regional and local contract negotiations; election and campaign finance; dispute resolution through mediation, arbitration and litigation; family law matters; benefits law design and compliance issues; discrimination, overtime and unpaid wages, and other employment matters; prepaid legal services for union members; social security disability; and workers' compensation matters in Philadelphia and beyond. Workers inspire us.