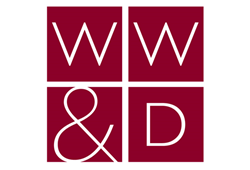 PHILADELPHIA (PRWEB) September 07, 2018
Philadelphia labor, employment, workers' compensation and family law firm Willig, Williams & Davidson is pleased to announce that Jessica R. Brown and Jessica C. Caggiano, both of whom are labor and employment attorneys, have joined the firm.
Serving as Of Counsel to the firm, Brown focuses her practice on the representation of labor unions and individual employees before state and federal courts and in arbitrations, negotiations and administrative proceedings. Prior to joining Willig, Williams & Davidson, she was a senior trial attorney at the U. S. Department of Labor, Office of the Solicitor. As a senior trial attorney, she successfully litigated a wide range of matters under federal labor laws, including the Employee Retirement Income Security Act and Occupational Safety and Health Act. She received her bachelor's degree from Bates College and her law degree from Temple University Beasley School of Law.
Caggiano practices labor and employment law, advocating for union and worker rights. Before joining the firm, she spent years advocating on behalf of union workers and teachers as counsel for the New York State Public Employees Federation, AFL-CIO (PEF) and the Pennsylvania State Education Association (PSEA). She represented working people in labor arbitrations, state court litigation, federal court litigation, and before governmental agencies. Her dedication to fighting for unions and employee rights comes from growing up in a working-class family with a history of union membership and advocacy. Caggiano earned her bachelor's degree from York College of Pennsylvania and her law degree from University of Pittsburgh School of Law.
About Willig, Williams & Davidson – Willig, Williams & Davidson (http://www.wwdlaw.com) is one of the largest and most respected union-side labor law firms in the United States. The firm has offices in Philadelphia, Jenkintown and Harrisburg, Pa., as well as Haddonfield, N.J., and Chicago, Ill. Founded in 1979, Willig, Williams & Davidson focuses on representing labor unions, employee benefit funds and individual working people and their families on a variety of legal fronts, including national, regional and local contract negotiations; dispute resolution through mediation, arbitration and litigation; tax and benefit law compliance issues; discrimination and other employment matters; prepaid legal services for union members; and workers' compensation matters in Philadelphia and beyond.