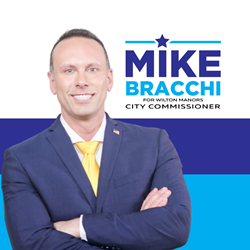 "Each of these local organizations contribute to our city and I encourage everyone to consider donating..." --Mike Bracchi, Wilton Manors City Commissioner
BOCA RATON, Fla. (PRWEB) January 26, 2021
Mike Bracchi was elected to the Wilton Manors City Commission in November, 2020 with overwhelming support from residents throughout the city. Although a first-time political candidate, Bracchi quickly became the front-runner. He had one of the largest kick-off events in Wilton Manors history and outraised the other candidates by more than 3:1. Ultimately, Bracchi garnered support from throughout the city and came in first place in all six precincts.
Candidates have 90 days after the election to disburse any unspent funds. Options include returning donations to the donors on a pro-rated basis, donating the unused funds to a 501(c)(3) non-organization, or moving the money into an office account that can be used during the length of the commission term.
Unlike many candidates who transfer the unused funds into an office account, Bracchi decided the right thing to do was to donate any remaining monies to four local non-profit organizations. "It just did not feel right holding on to the campaign contributions when so many organizations are in need of funding," Bracchi stated.
Bracchi donated funds to the Wilton Manors Historical Society, Wilton Manors Friends of the Library, Wilton Manors Sculpture Walk, and to the South Florida Audubon Society.
"Each of these local organizations contribute to our city and I encourage everyone to consider donating to these organizations," Bracchi stated. Although the South Florida Audubon Society is not located in the island city, they have a maintenance agreement with one of Wilton Manors beautiful parks, M.E. DePalma park, named after a local resident.
More about Mike Bracchi
Bracchi is an attorney and Shareholder in the Florida Probate Law Firm, PLLC. He obtained a number of degrees including a Juris Doctor (J.D.) from St. John's University in 2002, a Doctor of Pharmacy (Pharm.D.), and an M.S. in Business Management and Leadership. After practicing law for several years, Bracchi held a number of management and executive roles with hospitals and health systems.
Bracchi ultimately returned to his roots and is currently practicing law. He also serves as an Arbitrator with the Financial Industry Regulatory Authority, and previously was an Arbitrator with the New York City Court – Small Claims Division.