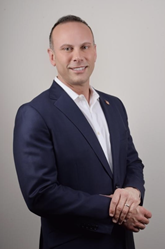 "I am happy to represent all of the residents of Wilton Manors and I am committed to moving our city forward, together."
BOCA RATON, Fla. (PRWEB) December 02, 2022
The City of Wilton Manors Commissioner Mike Bracchi has been selected by the city commission to serve as Vice Mayor of the city for the next two years, through November 2024. Bracchi was first elected to the city commission in November 2020. In Bracchi's first two years on the commission, he championed efforts to revitalize certain corridors of the city while maintaining the charm of the Island City. In addition, he has led efforts to crack down on nuisance vacation short-term rentals.
Vice Mayor Bracchi stated, "I am honored and humbled to be selected by my colleagues to serve in this important role." As a public servant, Bracchi continued "I am happy to represent all of the residents of Wilton Manors and I am committed to moving our city forward, together."
Prior to being elected to the city commission, Bracchi served on the Wilton Manors Budget Review Advisory Committee, where he also served as Chair. Bracchi stated, "I am delighted to continue my public service to help the residents of Wilton Manors."
About Michael "Mike" Bracchi
Bracchi practices full-time as an attorney and is a Shareholder in the Florida Probate Law Firm, PLLC located in Boca Raton, FL. He is licensed to practice law in Florida and New York and also serves as an Arbitrator with the Financial Industry Regulatory Authority. Bracchi has earned a number of degrees including a Juris Doctor (J.D.), a Doctor of Pharmacy (Pharm.D.), and an M.S. in Business Management and Leadership. He was elected to the Wilton Manors City Commissioner in November, 2020.
Contact Info:
Name: Mike Bracchi
Phone: (954) 390-2123
Email: mbracchi@wiltonmanors.com