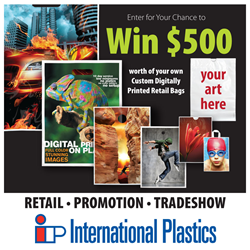 Recent research indicates that up to 90% of customers will keep promotional products
Greenville, SC (PRWEB) September 18, 2014
Marketing and advertising a business can sometimes be hard. International Plastics shows how to make it simple, painless, and most of all cost effective. There are thousands of promotional products on the market, but which one is best for a particular business? What type of promotional product is easy to distribute? What type of item would be helpful and useful, for prospects or customers, and one that will not just be thrown away?
Recent research indicates that up to 90% of customers and prospects at a trade-show will keep useful promotional products such as custom printed promotional shopping bags. Promotional printed bags (http://www.interplas.com/custom-trade-show-bags) are a cost-effective solution for marketing products and or services.
Consider having custom-printed plastic bags in your marketing arsenal for the following reasons:
1. A BPMA survey found that promotional products, such as custom bags, make recipients feel six times more appreciated when compared with websites, direct mail, or television.
2. When compared to traditional promotional mediums (web, mail, and TV) promotional items are twice as likely to motivate people to take action.
3. 79% of people who received a promotion product are likely repeat customers.
4. 66% of people that received a promotional item could recall the brand 12 months later.
5. Promotional items, such as custom-printed shopping bags, have a 69% boost in brand interest and an 84% increase in positive brand impression. This is primarily due to the repeated exposure to the company's brand.
At some point in time many businesses consider having their company name or logo printed on plastic bags. Store owners know there are many limitations that make ordering difficult and time consuming. Ever inquired about ordering printed bags, and have found the following to be true:

Huge Initial Investment in Quantities: Minimum orders of 5,000-10,000 promo bags.
High Design Cost per Color for a uniquely branded shopping or promo bag: As high as 15% for each additional color.
Long Wait Lead Times to receive custom bags: 4-6 weeks in many cases.
The International Plastics Simple Solution:
Low Investment: As little as 100 professionally-designed, digitally-printed bags that allow orders of just the right amount of bags.
Low Cost, Great Design: A flat cost for unlimited colors with photographic quality by their professional design team.
Short Lead Times: Orders will be ready in as little as 10 days.
Custom printed bags are the perfect way to brand a store, shop, event, or business at a trade show.
Enter to win their 50th Anniversary Digitally Printed Promo Bags Giveaway
http://www.interplas.com/freebags
Celebrating 50 years in business! Being grateful for customers; both past and potential future ones, that they are giving away up to $500 worth of digitally custom-printed plastic bags.
Win $500 worth of free printed bags for a trade-show or business promotion. Simply visit International Plastics (InterPlas.com) Promo Bag Giveaway Entry Page and complete the entry form.
One lucky winner will get to choose from one of eight different bag styles and work with their expert Art and Sales departments to create the perfect promotional bag for your company. The giveaway will end on October 31st 2014 so get your submission in. Good luck and happy Bagvertising!
References:
International Plastics: http://www.InterPlas.com
BPMA survey: http://bpma.co.uk