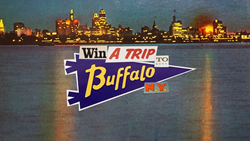 BUFFALO, N.Y. (PRWEB) January 09, 2019
The owners of Oxford Pennant, a Buffalo-based start-up company that designs and manufactures wool felt pennants for brands like Adidas, J. Crew and Urban Outfitters, are constantly asked why they decided to build a "cool" brand in city known primarily for snow. Lots of snow. Their answer? "It's not that bad."
Buffalo is famous for cold, snowy winters and there's never a better time visit to see the real Buffalo than in the heart of winter. Oxford Pennant has assembled an incredible prize package valued at nearly $4,000. The catch? The prize must be redeemed by March 10, 2019. Oxford's hope is that the prize winners will enjoy a fantastic weekend in Buffalo in spite of the bad weather.
"We work with companies across the country and around the world, and we talk up our hometown every chance we get," said Dave Horesh, Co-Founder of Oxford Pennant. "We want the winners to see what we see in Buffalo. We hope they're from Florida or California. We hope there's a once-in-a-lifetime snowstorm. They'll love it."
Oxford Pennant invites anyone up for an adventure to enter their email address at warmestcoldcity.com for a chance to win. One grand prize winner will be selected at random and will receive:

Round trip airfare for two from any airport in the domestic United States,
Two nights at Hotel Henry Urban Resort Conference Center,
Over $800 in gift certificates to Buffalo's best independent restaurants (yes, we'll make sure there's pizza and wings),
$500 gift certificate to Oxford Pennant's Flagship store,
$100 Lyft credit,
Tickets to one of the top art galleries in the country, The Albright-Knox Art Gallery,
$150 cash for ice skating, skiing, a visit to Niagara Falls and other miscellaneous fun
Visit warmestcoldcity.com for official rules.
# # #
About Oxford Pennant
Oxford Pennant is a Buffalo-based designer and manufacturer of felt pennants, banners and flags that are inspired by American sports traditions. The company offers a full catalog of products as well as custom products. Visit http://www.oxfordpennant.com and our Instagram page.