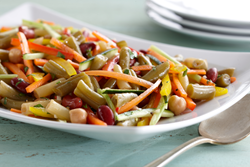 Throughout the month of June, fans visiting the website can enter daily to win one of READ's 12 sweepstakes prizes to help them with their reunion!
CHICAGO (PRWEB) June 03, 2019
Summer is the season for reunions with a whopping 66 percent of which occurring during this time of year . So if planning one is on the agenda this summer, be sure to make a virtual pit stop at Reunite With READ for everything you'll need to make it the best…and enter to win one of 12 fantastic prizes.
READ Salads, a pantry staple for generations, has created a one-stop resource that serves up tips, tricks and table trimmings sure to delight guests of all ages. Now in its second year, the Reunite With READ website is building upon its base of resources with even more mouthwatering recipes and printable items by partnering with four leading bloggers including The Crafting Chicks, The Mom 100, The Reluctant Entertainer, and The Sweetest Occasion.
Additionally, throughout the month of June, fans visiting the website can enter daily to win one of READ's 12 sweepstakes prizes to help them with their reunion:

Two (2) Grand Prizes: a $500 VISA gift card + 4 cases of READ Salads (3 Bean, 4 Bean, 3 Bean Single Serving Cups, and German Potato Salad)
Ten (10) First Runners Up Prizes: A $99 Ancestry.com 6-month gift card + a family pack of READ Salads
Limit one entry per day. All entrants' names and email addresses will be added to receive the Aunt Nellie's/READ eNewsletter.
"Nothing fills the heart more than getting together with loved ones to share old memories and make new ones," said Julia Storie, READ Salads Marketing Administrator. "Since READ Salads have been in America's pantries for generations, it was a natural next step for us to help bring family and friends together over traditional dishes and introduce a new one or two."
READ® Salads offer four convenient, ready-to-eat, salad choices that taste like homemade including 3 and 4 Bean Salad, and German Potato Salads. They are available in the canned vegetable aisle of the supermarket, along with 4-packs of 3 Bean Salad single serving cups. They provide important nutrients including dietary fiber, folate, potassium, iron, plant-based protein and more. All are shelf-stable and gluten free.
Start a new tradition at your next reunion – or tonight's dinner -- with this delicious recipe for Bean & Vegetable Salad. For more delicious recipes, visit http://www.ReadSalads.com.
BEAN & VEGETABLE SALAD
Preparation Time: 30 minutes
1 can (15 ounces) READ 3 or 4 Bean Salad
2 cups vegetables, cut into thin strips*
1/4 cup very thinly sliced red onion, optional
Cracked black pepper
Chopped parsley, optional
Dressing:
2 tablespoons reserved bean salad liquid
1 tablespoon apple cider or wine vinegar
1 tablespoon olive oil
1 large clove garlic, minced
Drain bean salad; reserve 2 tablespoons liquid.
For dressing, combine reserved bean salad liquid, vinegar, oil and garlic. Whisk until combined.
In large bowl, toss together drained bean salad, vegetables and onion, if desired. Toss with dressing. Season with black pepper and stir in chopped parsley, if desired. Serve at room temperature or chilled.
Makes 4 servings.
*Cut vegetables into thin strips about 2 x 1/4 inch. Vegetables can be one or a combination of: carrot, celery, bell pepper, cucumber, zucchini, yellow squash, or other favorite vegetable.
Nutrition information per serving (1/4 of recipe): 100 calories; 1 g protein;
14 g carbohydrate; 0 g fat; 200 mg sodium; 0 mg cholesterol; 3 g dietary fiber; 1 mg iron;
0 mg thiamin; 2674 IU vitamin A; 13 mg vitamin C.
# # #