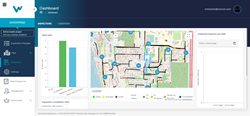 "WinCan Web has quickly become a central part of the WinCan sewer inspection ecosystem. With enterprise-tier mapping and job management, it supports workflows at every level, from coordinating crews out in the truck to making critical maintenance decisions back in the office."
PITTSBURGH (PRWEB) April 04, 2022
WinCan has been the global leader in sewer inspection and asset management software company for the past 30 years, and recent enhancements to its cloud-based platform, WinCan Web, have focused on supporting distributed teams with collaborative workflows. Now, WinCan Web has introduced a tier of enterprise features that enable fast and simple work order management with detailed, built-in dashboards and mapping options.
The dashboards feature an array of inspection metrics that give users a birds-eye-view of wastewater inspection results, crew progress and city-wide infrastructure health. WinCan Web users can now quickly review observation grades and section ratings, as well as a breakdown of each into structural and operational categorizations. When deeper analysis is required, all raw data and media from individual inspections is available at the click of a button.
In addition, WinCan Web's enterprise features also introduce an inspection manager, helping water and sewer managers track maintenance and inspection work orders and determine which are completed, in progress or still need to be started. This not only increases productivity for office teams creating and monitoring work orders, but allows tracking the progress of individual crews throughout the day, providing an enhanced layer of accountability and team management.
With WinCan Web's enterprise mapping capabilities, municipal inspection leadership can get a sky-high view of a city's sewer system and inspection progress where inspections are taking place. This gives them the ability to pinpoint individual pipe sections or projects for deeper analysis, and review active job sites and observations right on the web. The sewer system map lets users watch over city-wide sewer health, providing insight into maintenance and defect trends.
"WinCan Web has quickly become a central part of the WinCan sewer inspection ecosystem," says Mike Russin, general manager of WinCan for North America. "With enterprise-tier mapping and job management, it supports workflows at every level, from coordinating crews out in the truck to making critical maintenance decisions back in the office."
For more than 30 years, WinCan has been the leading brand for sewer inspection and asset management software solutions. Last year, it expanded offerings to include AI-backed data services via Sewermatics. Now, with the latest enterprise features in WinCan Web, users have access to a rich ecosystem of cloud technology to support sewer inspections. WinCan provides solutions for both office and field teams, supporting workflows from video capture and observation logging to work order creation and data visualization. Learn more at wincan.com or get in touch with our sales team at sales.us@wincan.com.