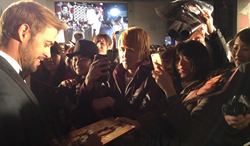 "I believe all kids have the right to dream big and be successful in life. When they have the right tools, this can become a reality." - William Levy
Los Angeles, CA (PRWEB) August 10, 2017
Los Angeles, CA – August 11 to September 4 - Children from the groundbreaking Los Angeles nonprofit organization A Thousand Joys (ATJ) will benefit from an intimate dinner hosted by film and TV star, William Levy. And, eight lucky fans have a chance to get a seat at Levy's table at a top eatery in Beverly Hills.
Levy was seen most recently starring alongside Milla Jovovich in Resident Evil: The Final Chapter and is currently in pre-production for his next project, Killing Sarai. The Cuban-born actor, named by Variety as one of the country's 10 top Latino stars, launched a campaign this month to raise awareness and funds to help children whose dreams are challenged by the devastating effects of trauma.
The contest is simple. Participants can go to http://athousandjoys.org/william-levy/ and donate for a chance to win! Every $10 donation equals one chance to win one seat at the dinner table with Levy. Four winners will be randomly selected though a drawing. And, if fans want to ensure a seat at Levy's table, up to two people can purchase a seat for $5,000 for themselves and a guest. Raffle winners will also receive up to $500 for travel expenses and hotel accommodations for two evenings. Personally signed autographs will be provided to the first 100 donors above $100. Since all levels of donations are important, a digital gift will be given to donors of less than $10.
Levy said, "I am excited to help spread the word about an organization called A Thousand Joys, who spend every day helping kids deal with violence, poverty, neglect and other conditions that are out of their control by teaching them things like breathing, yoga and mindfulness. In other words, empowering them with coping skills." He went on to say, "I believe all kids have the right to dream big and be successful in life. When they have the right tools, this can become a reality."
A Thousand Joys' Transform program currently focuses on students in communities with some of the highest rates of poverty and violent crime. Research shows that exposure to violence can cause trauma that can keep a child on edge and can often lead to angry outbursts and an inability to focus on instructions and tasks. Trauma is one of the top predictors of school suspension and academic failure. Transform employs both traditional and non-traditional activities such as yoga, meditation, mindfulness and drumming to emphasize physical, emotional and psychological balance. This in turn helps students to gain a sense of empowerment and creates lifelong habits of emotional health and self-care.
"A Thousand Joys aims to achieve a fundamental shift in thinking and practice in our school system that will result in more positive life outcomes," says ATJ's Chief Executive Officer Liza Auciello, PsyD. "Students entering our program often lack the skills to effectively manage their behaviors and emotions. After participating in our program, 80% of students report being better able to mange stress, while 75% are better able to handle anger."
This new mindset, Auciello says, helps students build coping and life skills that enable them to focus in the classroom and have a successful academic career.
A Thousand Joys founder, Raul Alvarado, says the organization plans to expand and replicate the Transform program to help many more students, their families and school staff. To this end, ATJ is converting their Transform classes into a new digital format that can be rolled out to thousands of Los Angeles students within the coming year. Alvarado says, "We are leveraging the training and support material that we have developed over the past 10 years to create a new platform to reach children with the greatest need. Our goal is to provide the training and support to stop the destructive effects of toxic stress as early as possible to avoid the detrimental effects that start in early childhood."
For more information about A Thousand Joys and how to enter the contest to have dinner with William Levy, visit http://www.athousandjoys.org/william-levy/.