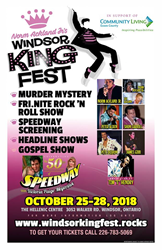 Celebrating Elvis and the 50th anniversary of 'Speedway' with Elvis' co-star Victoria Paige Meyerink
WINDSOR, Ontario (PRWEB) October 16, 2018
Multi award-winning Elvis Tribute Artist NORM ACKLAND, JR. announced today the full line up for his Windsor King Fest to be held in Windsor, Ontario October 25-28, 2018.
"It's a non-stop celebration of Elvis Presley's life and music complete with an Elvis co-star and world renowned tribute artists performing during the 4-day fest. All proceeds benefit Community Living Essex County, a most worthy cause," says Ackland. Now in its 11th year, Ackland (an award-winning tribute artist himself) took over the Fest in 2017 with the goal of keeping Elvis' memory alive and sharing the artist's music with new generations.
Featured this year is the 50th anniversary of "Speedway" (1968) with special guest, Elvis' co-star Victoria Paige Meyerink, who will be participating throughout Windsor King Fest. "Norm has created some very special events to celebrate 'Speedway's' 50th," says Victoria. "One of my first roles was on a wonderful Canadian TV series called 'The Littlest Hobo' and as a producer I shot part of my feature 'Young Warriors' in Vancouver, and Norm and I were at the Collingwood Elvis Fest together in 2013, so Canada has a special place in my heart!"
Describing the 'Speedway 50th Anniversary Celebration, Victoria says, "The Fest kicks off Thursday night 10/25 with a special Speedway Murder Mystery event limited to only 100 people on. Then on Sat 10/26 we'll screen "Speedway," Norm will perform a set of terrific songs from the film including the one Elvis sang to me, Your Time Hasn't Come Yet, Baby. We will do a Q&A with a special dinner and, YES!, I will have the original Speedway dress, the one I wore in the movie, on display with photos, etc. It will be a very fun time!"
"Victoria will be sharing some rare behind-the-scenes memories with the fans. Now an award-winning film producer, people will also remember Victoria for her on-screen roles in countless TV series' like Green Acres, My Three Sons, Family Affair, the FBI as well as co-starring with Clint Walker ('Cheyenne') in 'Night of the Grizzly,' 'Seconds' with Rock Hudson and 4 seasons with Danny Kaye on his CBS variety show," says Ackland.
Friday night's Rock 'n Roll Show will feature award-winning Elvis Tribute Artists (ETAs) including this year's Collingwood Grand Champion Tim 'E' Hendry, along with the very talented Peter Alden, Pete Doiron, James Gibb, Norm 'Midnight' Ackland, as well as Norm Ackland, Jr. performing many Elvis and classic hits from the golden age of rock 'n roll.
"Saturday night's show will be ALL Elvis!" says Ackland. "Then there's a Sunday afternoon Gospel show featuring some of Elvis' most beloved tunes to wrap up the Fest."
This year's Windsor King Fest promises to be one of the most exciting. Meet the celebrities and join the fun!
3-day passes available! The full schedule (reprinted below), venue information and tickets are available at http://www.WindsorKingFest.rocks
INTERVIEWS and HI RES PHOTOS UPON REQUEST
Video of Victoria on Memphis' Live@9:
https://youtu.be/kx55rBuVuXo
2018 WINDSOR KING FEST EVENT SCHEDULE
Unless noted, all events take place at the
Hellenic Community Center - 3052 Walker Rd Windsor, ON
Weekend Package tickets available for $135 each
Thursday, Oct. 25 - 6pm
"Speedway" Murder Mystery Dinner Show
with Elvis co-star Victoria Paige Meyerink
Limited to 100 people!
Tickets: all $30
(includes dinner & FREE Speedway 50th photo)

This event is at the Riviera, 2415 Central Avenue
Friday, Oct. 26 – 8pm
Elvis & Friends Rock 'n Roll Classics
Featuring James Gibb, Shon Carroll, Peter Alden,
Pete Doiron, Norm Ackland Sr. & Norm Ackland Jr.
$35 front row reserved seating
$25 open seating
Saturday, Oct. 27 – 3pm
50th Anniversary Screening of "Speedway" with Victoria Paige Meyerink followed by a Q&A and photo signing! Speedway songs by Norm Ackland, Jr.
(includes buffet dinner by Capri)
$37 front row reserved
$32 open seating
Saturday, Oct. 27th – 8pm (doors open at 7pm)
All Elvis Showcase featuring
Tim "E" Hendry and the Kingfest Band
with Norm Ackland, Jr. and James Gibb
$45 front row reserved
$35 open seating
Sunday, Oct 28 – 1pm
Gospel Music Celebration
Featuring your favorite tribute artists singing some of Elvis' most beloved music!
$25 front row reserved
$20 open seating
Tickets and Weekend Packages at http://www.WindsorKingFest.rocks
Questions? Want to volunteer? Call Norm at 519-903-4884