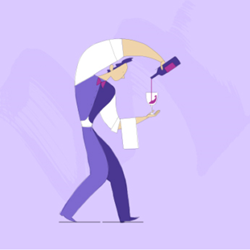 "Our Ultimate Beginner's Guide to Wine makes learning so easy, allowing us to reach people who are curious about wine from the ease and comfort of their email inbox."
MONROVIA, Calif. (PRWEB) September 10, 2018
With the skyrocketing popularity of wine, the Wine of the Month Club® realized there's an unserved demand for wine education among budding connoisseurs.
Paul Kalemkiarian, second generation owner and cellarmaster of the Original Wine of the Month Club®, has culled his decades of expertise in the wine world into a must-take introductory wine course. The Ultimate Beginner's Guide to Wine (http://eduwine.com) focuses on how wine is made, discusses significant grape varietals and growing regions, offers advice on developing your palate, and tips on how to choose, serve and pair wine with food.
"There's always something new to learn in wine," says Kalemkiarian. "After 28 years, I can still be surprised. To me, it's an endless source of new experiences and inspiration."
While every wine lover knows the best way to hone your skills in wine is to taste it, you need a foundation on which to build your wine knowledge. We learn almost everything better, and more deeply, by sharing the learning experience – with a mentor, with professionals and with fellow wine enthusiasts. That's why Wine of the Month Club® created this information-packed course.
Says Kalemkiarian, "It's so rewarding to share what I've learned about wine with others. And our new Highbrow course makes learning so easy, allowing us to reach people who are curious about wine from the ease and comfort of their email inbox."
The Ultimate Beginner's Guide to Wine (http://eduwine.com) is now available at GoHighbrow.com, in the Lifestyle category. At Highbrow, the first 30 days are free, plus you can cancel anytime. Receive a new lesson straight to your inbox every morning for 10 days. Lessons take just five minutes to read, and each course is followed by a fun, knowledge-testing quiz. Stay tuned for future courses from Kalemkiarian and the Wine of the Month Club®, taking you deeper into the wine world, including detailed studies of red, white, sparkling and dessert wines and more!
Specializing in value-oriented wines, the Wine of the Month Club® is open to anyone who has an appreciation of fine wine and is interested in a monthly wine club service. Each and every selection from the Wine of the Month Club® is guaranteed for its character and value. A newsletter accompanies each shipment with interesting facts about each wine, storage suggestions, serving suggestions and meal pairings. Each wine also comes with a reorder guarantee of 90 days and no less than a 20% discount.
Paul Kalemkiarian is the second-generation owner of the Original WINE OF THE MONTH CLUB® that brought wine to America's door. It is the oldest mail order wine club in the United States. Kalemkiarian personally tastes around 300 wines a month to make the club selections, and sources them from across the globe. Each selection comes with their guarantee: You never pay for a wine you do not like.
For more information on The Wine of the Month Club® or their products, please visit https://www.wineofthemonthclub.com or call 800-949-9463.