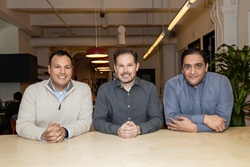 Our goal is to give families the tools they need to manage money in the digital age, improve financial literacy for teens and provide a user-friendly mobile money app.
MONTREAL (PRWEB) July 28, 2020
Wingocard, a personal finance platform designed to connect teens to the mobile, cashless economy and strengthen financial literacy skills, announced today that it has closed a $2M seed round led by Diagram.
Launching this fall, the Wingocard mobile app already has 50,000 new users on its waiting list. Wingocard is a mobile banking app designed for teens and parents. It allows parents to instantly transfer money and keep an eye on how it is spent. In addition, the Wingocard app and Visa debit card allow teens to purchase items anywhere and send and receive money to friends and family. Wingocard helps teens take control of their personal finance by building strong financial literacy skills and improving their understanding of earnings, spending and savings habits with user-friendly data tracking and visualization tools.
"The COVID-19 pandemic has created an army of new online shoppers, as Americans move to ecommerce and delivery-based apps to shop for all types of items," said Sebastien Brault, CEO of Wingocard. "When we began designing Wingocard, our goal was to give families the tools they need to manage money in the digital age, improve financial literacy for teens and provide a user-friendly mobile money app. As we prepare to launch this summer our growing waiting list highlights how important this tool is to help families navigate new online shopping habits and teach financial literacy."
The teen population in the U.S. stands at 50 million, or roughly 15% of the population. According to a Piper Jaffray survey, teens spend an average of $2,600 each year on food and clothes. In response to COVID-19, families have shifted a majority of spending online, relying on ecommerce for purchases previously made in stores. For Gen Zers, who are true digital natives, this new reliance on ecommerce is here to stay. Improving financial literacy skills and connecting teens safely to the cashless economy is more important now than ever before.
"We are excited to help bring Wingocard to families this summer," said Francois Lafortune, CEO, Diagram. "Financial literacy is an important skill that many U.S. students don't learn in school. Wingocard gives families the tools they need to teach teens good spending and saving habits in a digital environment."
Wingocard was founded by serial entrepreneurs Sebastien Brault, Mehdi Mehni and Salvatore D'Agostino. Fathers to teenagers themselves, Sebastien and Mehdi understand firsthand the importance of teaching financial responsibility early on. In addition, D'Agostino formerly worked in engineering roles at InVision, Cloudflare, and SociableLabs. Mehni and Brault co-founded ViralNinjas, which merged with SociableLabs. Mehni served previously as the Lead Growth Engineer at AnchorFree as well as InVision and Housecall Pro. Brault has founded five digital/social companies and served as an angel investor for numerous startups, including PasswordBox.
According to the Organization for Economic Co-operation and Development's triennial survey of 15-year-olds, one in five teenagers in the U.S. lack basic financial literacy skills. However, teens with both a bank account and a pre-paid debit card scored higher than students of similar socioeconomic status without.
With Wingocard, teenage users can receive money from their parents, pay with a phone or VISA debit card, keep track of spending, earn money by completing chores, set savings goals, complete financial literacy quizzes to earn rewards, and collect cash using ATMs. The app's financial literacy tools include lessons on budgeting, saving money, tracking earnings and spending, and financial terms. To learn more or pre-register visit http://www.wingocard.com
About Wingocard
The Wingocard (http://www.wingocard.com) team is on a mission to help teens access the cashless economy with the world's best banking experience. We want to empower and inspire teens to learn about money and take control of their personal finance as early as possible in their lives. The Wingocard App is a mobile banking tool designed for teens and their parents. The app allows parents to instantly transfer money to their teens and keep an eye on how they spend it. http://www.wingocard.com
About Diagram
Diagram (http://www.diagram.ca) co-founds companies that pursue big ideas in the financial, insurance and healthcare sectors. We combine venture capital investment, incubator-style support and the unfair advantages of large incumbents into a unique, founder-centric model. As a leading venture builder, Diagram offers founders a unique platform to launch a business, scale it, and pursue global success.