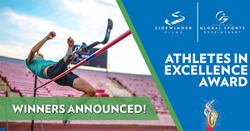 "These are athletes who give their all during training and competition, and they extend that dedication to their communities as well." - Dr. Steven Ungerleider, GSD Executive Board Member
LOS ANGELES (PRWEB) January 28, 2020
This week The Foundation for Global Sports Development (GSD) announced the nine recipients of its prestigious Athletes in Excellence Award. The awardees are being recognized for achievements in sport and community service that set them apart from their peers.
"When reviewing nominations for this award, we looked closely at the athlete's leadership, community service, and mentorship activities," said GSD Executive Board Member, Dr. Steven Ungerleider. "These are athletes who give their all during training and competition, and they extend that dedication to their communities as well. We want to highlight the positive impact sport can have and the people who are creating change."
The award is accompanied by a cash gift of $10,000. Historically, award recipients have donated the funds to organizations they have volunteered with or used them to continue pursuing their passion for community service.
"The award winners may use the funds however they wish," said David Ulich, GSD Executive Board Member. He added, "We view the cash gift as a way to empower each athlete to increase the size of their impact in the communities they serve."
GSD supports programs and initiatives around the world that celebrate the benefits of sport for youth. For more details on the 2019 award recipients, please visit GSD's website at http://www.globalsportsdevelopment.org.
2019 Athletes in Excellence Award Recipients
Yunnior Almaraz (US Soccer Coach) As a coach for the Futbol Academy of SoCal (FASC), Yunnior dedicates himself to his community and its young people by serving as a coach and mentor to underserved youth from the Los Angeles area. FASC provides high level soccer training and competition to young people at no cost, with a focus on player development, good citizenship, and academic success. Nominated by LA84 Foundation.
Batoul Arnaout (Jordanian, Runner, Cyclist, Taekwondo Black Belt and Squash Player) A gifted female athlete in a country where sports are considered a male pursuit, Arnaout has excelled in multiple disciplines and represented Jordan in the Pan Arab games as a member of its National Squash Team, earning a silver medal. She founded BOOST in 2014 to create better opportunities for sports in Jordan and has helped over 1,000 athletes to date. Nominated by Mo'ath Alkhawaldeh.
Chris Barlow (US Olympian, Kayaking) A San Diego Fire Captain, Barlow founded the San Diego Canoe Kayak Team (SDCKT) in 1997 and has coached over 1,000 paddlers over the past 21 years. No one is turned away for ability or economic need. SDCKT teams have won National Championships at the U14, U16 and U18 levels. Nominated by Jennifer Hein, Board President San Diego Canoe Kayak Team.
Christopher Ricardo Dennis (Trinidad and Tobago, Former Pro Surfer) Eight-time Trinidadian National Champion, Dennis has coached and mentored surfing youth in Trinidad and Tobago to effect change in their lives. He founded Waves for Hope, a surf therapy program for at-risk youth. Chris was instrumental in ensuring T&T was represented at ISA's world surfing championship, and in arranging equipment donations for its undeserved youth. Nominated by Manuela Giger.
Duane DeSoto (US Pro Surfer) World Long Board Champion from Oahu, Duane founded Nā Kama Kai, a program where children of all ethnic and economic backgrounds learn about ocean sports, responsibility for the environment, and leadership from culturally aware mentors, while receiving free tutoring and healthy food. Nominated by Sidewinder Films.
Stuart Krohn (US Collegiate All American, Rugby) After a 13-year global pro career, Krohn coached Dartmouth's rugby team and eventually founded Inner City Educational Foundation (ICEF) Rugby in 2003, serving thousands of students in South Los Angeles annually. In addition to after school and PE programs, ICEF Rugby has 200 students – both male and female - playing competitive rugby. High school team players participate in international trips where they compete and live with host families. Academic and life skills are emphasized with an eye to college. Nominated by Shawn Lipman
Lucy Meyer (US Special Olympics Gold medalist, Swimming) National spokesperson for the Special Olympics and UNICEF USA partnership, Lucy works to highlight the power of sports to advance the rights of children with disabilities. She has traveled the world in her capacity as spokesperson, lobbied legislators on Capitol Hill, and presented at the UN. Lucy has spoken to over 12,000 students in over 50 schools around the country and has appeared online, in print and on TV promoting her message of changing lives through inclusion. Nominated by LA84 Foundation.
Adrianna 'Dre' Newkirk (US Powerlifter) A competitive powerlifter, certified coach, and personal trainer, Dre teaches nutrition and leads strength training sessions in Boston through Shooting Touch, an organization that uses sport to educate and empower at-risk youth, women and communities. In 2019 Dre joined a powerlifting outreach trip to Harare, Zimbabwe with Lift4Life, which empowers marginalized communities through strength training and the sport of powerlifting. Dre continues to support Lift4Life's mission through fundraising, marketing, and maintaining relationships with powerlifters in Harare. Nominated by Erica Pernell.
Geison Adriano Rodrigues Santos (Brazilian Paralympic Runner) Geison volunteers with Rotary International and his own Champion Athletics program to include children and adolescents with disabilities and cancer in bicycle races powered by volunteer riders. A Brazilian UNICEF ambassador, Rodrigues Santos, also serves as a motivational speaker in underprivileged areas, promoting a drug-free lifestyle. Nominated by Kelsey Dick and Danielle Karla Silva.
About Global Sports Development
Working closely with international sports federations, generous donors and committed athletes, The Foundation for Global Sports Development promotes sportsmanship, education, fair play and ethics among the world's youth. The Foundation gives special emphasis to groups and communities that are most in need or most underserved by current programs, including women, minorities and youth in areas where the risk of delinquency is particularly high. Visit http://www.globalsportsdevelopment.org to learn more.