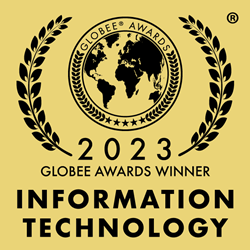 A worldwide judging panel of more than 600 executives and professionals representing a wide spectrum of industries participated and their average scores and inputs determined the 2023 award winners.
SAN FRANCISCO (PRWEB) May 25, 2023
The Globee® Awards organizer of the world's premier business awards programs and business ranking lists today announced the Gold, Silver, and Bronze winners in the 18th Annual 2023 Globee® Awards for Information Technology honoring achievements and recognitions in the information technology and cybersecurity industries worldwide.
See the complete list of 2023 winners here: https://globeeawards.com/information-technology/winners/
"I am honored to congratulate the remarkable winners of the 2023 Globee® Awards for Information Technology," says San Madan, President of Globee Awards. "Your dedication, innovation, and impactful contributions have set new standards of excellence in the IT industry. Your accomplishments inspire us all and reinforce the transformative power of technology. I commend each winner for their relentless pursuit of excellence and their unwavering commitment to driving progress in the digital era. May your success continue to propel the IT industry forward and inspire future generations of innovators. Congratulations once again on this well-deserved recognition!"
The judging process for the 2023 Globee® Awards for Information Technology involved the active participation of over 600 judges from diverse corners of the globe, representing a broad spectrum of industry experts. These esteemed judges contributed their expertise to evaluate and assess the submissions received. The Information Technology World Awards welcomes participation from organizations in the Information Technology and Cyber Security sectors, as well as their end-users worldwide. We extend our gratitude to all the judges who dedicated their time and knowledge to this process. For the complete list of judges, please refer to the following link:
https://globeeawards.com/information-technology/judges/
The 2024 entry submissions process will commence shortly. To participate please visit: https://globeeawards.com/information-technology/
About the Globee Awards
The Globee Awards presents recognition in nine programs and competitions, including Globee® Awards for American Business, Globee® Business Awards, Globee® Awards for Cybersecurity, Globee® Disruptor Awards, Golden Bridge Awards®, Globee® Awards for Information Technology, Globee® Awards for Leadership, Globee® Awards for Sales, Marketing, Service, & Operations, and Globee® Awards for Women In Business. For more information on the Globee Awards, visit https://globeeawards.com.
#globeeawards #ITWorldAwards #businessawards #cybersecurity #globalexcellenceawards #InformationTechnology
Subscribe to the Globee weekly Newsletter
Subscribe to Globee Awards YouTube channel
Follow Globee Awards on Twitter
Follow Globee Awards on LinkedIn
All trademarks belong to their respective owners.