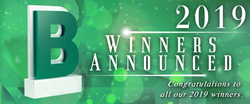 "The quality of the entries in Best in Biz Awards this year was as high as ever," said Catherine Ellis, Tech Radar (UK).
NEW YORK (PRWEB) August 14, 2019
Best in Biz Awards, the only independent global business awards program judged each year by prominent editors and reporters from top-tier publications from around the world, today announced the winners in its 7th annual International competition. Once again, close to 300 public and private companies from all sectors of the global economy and more than 30 countries competed for the honors.
Gold and multiple award winners in Best in Biz Awards 2019 International include: CleverTap, Consumer Protection BC (Canada), Demisto, Enterprise Holdings, IBM, IFS (Sweden), Information Builders, LeddarTech (Canada), Paragon Biosciences, Pushpay (New Zealand), Qentelli, Reservations.com, Semafone, Shoe-d-vision (Denmark), Squaremouth, Syncron (Sweden), Tata Consultancy Services (India), TouchBistro (Canada), Untangle, USANA, Velocity Global and Vonage. For a full list of gold, silver and bronze award winners, visit: http://intl.bestinbizawards.com/intl-2019-winners.
As in prior years, Best in Biz Awards recognized the most awarded companies in this year's competition using a weighted-medal point system. IBM was this year's Most Awarded company, having won honors in a record-breaking number of 13 categories. Reservations.com came in second place with 4 wins and Qentelli and Vonage tied for third place. For more details on the Most Awarded companies, see: http://intl.bestinbizawards.com/intl-2019-most-awarded/.
Members of this year's judging panel were once again faced with tough scoring choices:
"Having judged several different categories for Best in Biz Awards over the years, the Fastest-Growing Company of the Year category was particularly challenging. Aside from being international in scope, the entries spanned businesses of all sizes and types," said Jon Arnold, principal analyst at J Arnold & Associates (Canada), having served on Best in Biz Awards judging panels since 2013.
"There is a high standard of entry this year, and I feel slightly uneasy about having to choose a 'winner', because all the entries are winners," said John Tilston, former bureau chief for the Australian Financial Review and EMEA news editor for Dow Jones Newswires, returning to judge his second competition. "Congratulations to all."
"The quality of the entries this year was as high as ever," said Catherine Ellis, downloads and developing technology editor at Tech Radar (UK), having judged her sixth Best in Biz Awards program.
Winners in the 7th annual program were determined based on scoring from an independent panel of judges hailing from a wide spectrum of top-tier publications and media outlets from 11 countries. Each year, only editors, writers and contributors to business, consumer, financial, trade and technology publications, as well as broadcast outlets and analyst firms, are invited to serve as judges in Best in Biz Awards. The program's uniqueness stems, in part, from this distinct composition of its judging panels, enabling it to best leverage the judges' unparalleled expertise, experience and objectivity to determine award winners.
This year's judging panel included writers and contributors to such publications as Computer Hoy (Spain), Data Breach Today, HT Mobile (Israel), Huffington Post, IAA Magazine (United Arab Emirates), NDR (Germany), Small Business IT (Canada), TechRadar (UK), as well as other outlets from Australia, Canada, India, Indonesia and United Kingdom.
Best in Biz Awards is now accepting entries in its 9th annual North American program, open to any company from any industry based in or operating in North America, in 80 company, department or team, executive, product, and CSR, media, PR and other categories. The late entry deadline is September 27, 2019.
About Best in Biz Awards
Since 2011, Best in Biz Awards, Inc. has made its mark as the only independent business awards program judged each year by a who's who of prominent reporters and editors from top-tier publications. From Aflac to YMCA, past winners in Best in Biz Awards span the spectrum, from blue-chip companies that form the bedrock of the world economy to Shark Tank participants, mom-and-pop shops, and some of the most innovative start-ups. Best in Biz Awards honors are conferred in two separate programs: North America and International, and in 80 categories, including company, team, executive, product, and CSR, media, PR and other categories. Entries in the 9th annual North American Best in Biz Awards are now being accepted until the final deadline on September 27, 2019 at: http://www.bestinbizawards.com. For more information about the International program, visit: http://intl.bestinbizawards.com