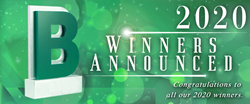 NEW YORK (PRWEB) September 30, 2020
Best in Biz Awards, the only independent global business awards program judged each year by prominent editors and reporters from top-tier publications from around the world, today announced the winners in its 8th annual International competition.
Winners in Best in Biz Awards 2020 International include: 2checkout, Alibaba (China), Applause, Applied Systems, Balbix, Beijing Puppy Robotics (China), Brown Advisory, CareerArc, DHL Express (Vietnam), EPAM Systems, Frank Recruitment Group, IBM, IFS North America, Interactions, Lumeon (United Kingdom), Mastercard, Mercku (Canada), MindTickle, MONAT Global, OJO Labs, One Park Financial, Panda Security (Spain), Pushpay (New Zealand), Qentelli, Shufti Pro (United Kingdom), Squaremouth, TELUS (Canada), Untangle, USANA and Wolters Kluwer. For the full list of gold, silver and bronze award winners, visit: http://intl.bestinbizawards.com/intl-2020-winners.
"The global COVID-19 pandemic has severely impacted all businesses, particularly so during its height, which coincided with this year's February-May submission period. With companies pioneering work-from-home arrangements and employees worried about their own health and safety, as well as fewer achievements to focus on as the world was consumed by uncertainty and bankruptcy filings surged to 40 percent in some areas, Best in Biz Awards International understandably received fewer entries this year than normally," stated Best in Biz Awards staff. "Nonetheless, this year, as every year, the program upholds the same high standards of judging to achieve the same exceptional quality of winning entries. As a result, fewer winners were selected across all categories, making this year's winners' achievements amidst this difficult economic climate all the more notable."
Winners in the 8th annual program were determined based on scoring from an independent panel of judges hailing from a wide spectrum of top-tier publications and media outlets from 10 countries. Each year, only editors, writers and contributors to business, consumer, financial, trade and technology publications, as well as broadcast outlets and analyst firms, serve as judges in Best in Biz Awards. The program's uniqueness stems, in part, from this distinct composition of its judging panels, enabling it to best leverage the judges' unparalleled expertise, experience and objectivity to determine award winners.
This year's judging panel included writers and contributors to such publications as Bloomberg News, Data Breach Today, HTMAG (Israel), Huffington Post, NDR (Germany), Panorama Magazine (United Arab Emirates), Small Business IT (Canada), TechRadar (UK), as well as other outlets from Brazil, Canada, India, United Kingdom and more.
Best in Biz Awards is still accepting entries in its 10th annual North American program, open to any company from any industry based in or operating in North America, in more than 80 company, department or team, executive, product, and CSR, media, PR and other categories. Due to the continuing global ramifications of the unprecedented COVID-19 pandemic, the final entry deadline has been extended to October 23, 2020.
About Best in Biz Awards
Since 2011, Best in Biz Awards, Inc. has made its mark as the only independent business awards program judged each year by a who's who of prominent reporters and editors from top-tier publications. From Aflac to YMCA, past winners in Best in Biz Awards span the spectrum, from blue-chip companies that form the bedrock of the world economy to Shark Tank participants, mom-and-pop shops, and some of the most innovative start-ups. Best in Biz Awards honors are conferred in two separate programs: North America and International, and in 80 categories, including company, team, executive, product, and CSR, media, PR and other categories. Entries in the 10th annual North American Best in Biz Awards are now being accepted until the final deadline on October 23, 2020 at: http://www.bestinbizawards.com. For more information about the International program, visit: http://intl.bestinbizawards.com