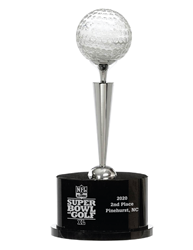 "Winner's believes in our mission and has stepped up to help us help kids. We welcome them into the NFLA huddle." --Beasley Reece, CEO, NFLA
COCONUT CREEK, Fla. (PRWEB) August 21, 2020
Winner's Award Group and the National Football League Alumni Association (NFLA) are pleased to announce that effective immediately, Winner's has joined NFLA as an Enterprise Member and Partner. Winner's Award Group will be partnering with NFLA staff and members to provide product solutions for all special events and activities. Winner's Award Group makes event planning easy by providing unique gifts, promotional items, custom apparel and awards.
"I met the Winner's team at this year's PGA Merchandise Show and was impressed with their diverse product lines," said Beasley Reece, CEO, NFLA. "More than that, though, Winner's provides our staff and members a unique 'one-stop shopping experience' regardless of whether they need gifts, recognition awards or event trophies."
Louis Chiera, President, Winner's Award Group, said, "We are proud and very excited to partner with NFL Alumni Association to provide their headquarters staff, chapters and individual members with product solutions in the Gifts and Custom Awards areas. These members are the greats of a game we all love and each of them continue to be winners in their post-NFL duties. Whether they are former players, coaches, cheerleaders or business executives, we welcome them all to the Winner's Award Group family."
Winner's Award Group enjoys a strong leadership position in the corporate and golf industries, working with thousands of companies and private country clubs across the country. The company provides unique gifts and awards as well as logo'ed apparel and promotional items to multiple PGA of America Sections, PGA Tour events, as well as a portfolio of corporate clients.
According to Chiera, "As an Enterprise Partner of NFLA, Winner's will provide trophies and awards and contribute to NFLA's Super Bowl of Golf and the Red, White & Blue Celebrity Golf Classic this month. An important element of our Enterprise partnership will be a return donation of ten percent (10%) of sales to the NFLA or any individual member's non-profit organization that orders our product. We don't just want to be another vendor. We are committed to partnering with and giving back to charitable events and organizations, in this case, the NFLA's youth focused charity programs.
Reece said, "Winner's believes in our mission and has stepped up to help us help kids. We welcome them into the NFLA huddle."
NFLA staff and members can find Winner's Award Group product solutions at https://winnersawardgroup.com/nfl-alumni/.
About Winner's Award Group
Winner's Award Group is a leading provider of Distinctive Gifts and Recognition Awards. In business since 1977, Winner's Award Group is a full-service provider of custom trophies and awards, CHAMPIONSHIP BELT trophies, custom plaques and framing, corporate awards, commemorative products, promotional gifts and corporate or event apparel. The company's creative ideas and products help create memories that will last a lifetime. Contact the company at 1-800-344-0545 or 4171 W. Hillsboro Blvd., Suite 111, Coconut Creek, FL 33073.
About NFLA
NFL Alumni was founded in 1967 and is the oldest and most recognizable national organization of retired professional athletes. NFL Alumni consists of former NFL players, coaches, executives, spouses, cheerleaders, and associate members. Part of NFL Alumni's dual mission is "Caring for Kids". Player alumni give back in their local communities by raising funds for youth-related charities through their 35 regional chapters. It is a tradition that has existed for more than 50 years. Alumni support typically raises more than $1.5 million dollars for worthwhile causes. The other half of NFLA's mission, "Caring for our Own" is to serve, assist and inform its members and their families. Alumni members are offered a diverse package of wellness, business, career and legal services to help members and their families be healthy, productive, and connected to one another.
# # #