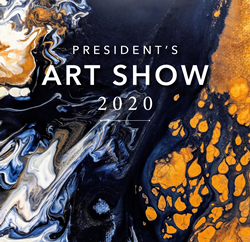 SALT LAKE CITY (PRWEB) November 10, 2020
Salt Lake Community College is proud to announce the opening of its annual President's Art Show, taking place now through Nov. 18 at the college's South City Campus at 1575 S. State Street in Salt Lake City. The juried show celebrates Utah artists and the powerful ways in which art brings people together.
As part of the President's Art Show, the college recognizes six artists with show awards. This year's winners are as follows:
President's Award: "Beauty" by Lisa Hildebrand
Selected by SLCC President Deneece G. Huftalin
Community Award: "From Dusk to Dawn" by Rob Chipman
Selected by an honorary community representative
Dennis Klaus Honorary Award: "Lone Peak of the Wasatch" by James Woodward
Selected by Dennis Klaus, VP for Finance & Administration Emeritus
Additional awards selected by three local art professionals and/or artists:

Best in Show: "Too Heavy" by Katelynn McKinnon
2nd Place: "Whirling Starry Female Storm" by Gilmore Scott
3rd Place: "Swamp" by Olivia Dawson
The 77 pieces that make up this year's exhibition were selected from 266 entries in a variety of media created by talented professional and amateur local artists. Many of the works are for sale.
To view virtual tour and celebration video, visit http://www.slcc.edu/artshow
Due to COVID-19 restrictions, in-person viewings are by appointment only. To schedule, contact Danielle.Susi-Dittmore@slcc.edu or call 801-957-4496.
Individuals who require ADA accommodations may contact the Disability Resource Center at 801-957-4659
Learn more about SLCC art exhibitions and collections here: http://www.slcc.edu/exhibitions-collections
Salt Lake Community College is Utah's largest open-access college, proudly educating the state's most diverse student body in 8 areas of study at 12 locations and online. The majority of SLCC graduates transfer to four-year institutions, and thousands more are trained in direct-to-workforce programs. In 2023, the institution will be celebrate 75 years of providing Utahns with education and training in fields that contribute to the state's vibrant economy and high quality of life.