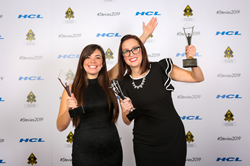 FAIRFAX, Va. (PRWEB) October 02, 2020
The Stevie® Awards for Women in Business, which shine a spotlight on women executives, entrepreneurs, and organizations run by women, have announced the 2020 winners today.
The Stevie Awards for Women in Business is an international competition produced by the creators of the prestigious International Business Awards® and American Business Awards®. The Stevie is widely regarded as the world's premier business award.
This year's Gold, Silver and Bronze Stevie Award winners will be honored at a virtual awards ceremony on Wednesday, December 9. More than 400 women and their guests from around the world are expected to attend the presentations.
The Stevie Awards for Women in Business event will be complemented by the third annual Women|Future Conference, a two-day networking and learning event for female founders, business owners, entrepreneurs and industry leaders, that also will be staged virtually, this year on November 12-13. Registration is just $99, or $49 for current students with an active student ID. Details and registration are available at http://www.WomenFutureConference.com.
More than 1,500 nominations from organizations and individuals around the world were submitted this year for consideration in categories including COVID-19 Response, Entrepreneur of the Year, Executive of the Year, Most Innovative Company of the Year, and Startup of the Year, among others. More than 180 business professionals working in seven specialized judging committees determined the Gold, Silver, and Bronze Stevie Award winners.
Among the many extraordinary organizations and women who have been recognized as Stevie winners, the following organizations stand out as those with four or more winning nominations: 8x8 to Educate (Currumbin, QLD Australia), AlterContacts (Amsterdam, The Netherlands), Dee is for Digital (Marbella, Spain), DevelopHer (Dallas, TX USA), DHL Express (worldwide), Families Without Borders (Moraga, CA USA), Helen Zahos, Humanitarian Nurse (Australia), IGNITE (Brier, WA USA), Jeunesse Global (Lake Mary, FL USA), John Hancock (Boston, MA USA), Mentor (New York, NY USA), New American Funding (Tustin, CA USA), Purpose DRV'N (Woodbury, MN USA), REMAP Network (Toronto, ON Canada), Saski Collection (Gold Coast, QLD Australia), Spectrum Support Ltd (Southport, Queensland Australia), Tavuun Welfare Association (Lahore, Pakistan), The Financial Literacy Youth Initiative (Cranston, RI USA), Toft Group (San Francisco, CA USA), Wolters Kluwer (multiple cities), and Xandr (Boston, MA USA).
The 2020 Gold, Silver, and Bronze Stevie Award winners reflect a diverse group of large and small organizations from around the globe. Notable Gold Stevie Award winners in this year's competition include:

Julianna Yau, Founder, Ampala Education, Hong Kong - Woman of the Year - Business Services
Jacqueline Guichelaar, Senior Vice President and Group Chief Information Officer, Cisco, San Jose, CA USA - Woman of the Year – Technology
Katherine Relle, Private Equity Portfolio Manager, JPMorgan Chase & Co., New York, NY USA - Female Employee of the Year – Business
Michelle Arscott, Founder and Mentor, The International Life Coach, Nairobi, Kenya – Mentor or Coach of the Year – Health/Wellness
Project SMILE, NCR, Philippines – Most Valuable Non-Profit COVID-19 Response
EggLife Foods, Chicago, IL USA – Best New Product of the Year – Consumer Products
LinkedIn Corp, Sunnyvale, CA USA – Most Valuable COVID-19 Corporate Response
Burger King, Miami, FL USA – Communications or PR Campaign of the Year – Food and Beverage
Stevie Award-winning nominations were submitted by organizations in Australia, Bahrain, Brazil, Canada, China, Egypt, Finland, Germany, Hong Kong, India, Ireland, Israel, Jordan, Kenya, Mexico, the Netherlands, Nigeria, Norway, Pakistan, Philippines, Russia, Saudi Arabia, Singapore, South Africa, Spain, Taiwan, Turkey, the United Arab Emirates, the United Kingdom, the United States, and Vietnam.
Visit http://www.StevieAwards.com/Women for a complete list of Stevie winners by category.
Winners of five Grand (best of show) Stevie Award trophies, and in three HCL Technologies-sponsored categories for women in technology, will be announced the week of October 12.
About the Stevie Awards
Stevie Awards are conferred in eight programs: the Asia-Pacific Stevie Awards, the German Stevie Awards, The American Business Awards®, The International Business Awards®, the Middle East & North Africa Stevie Awards, the Stevie Awards for Women in Business, the Stevie Awards for Great Employers, and the Stevie Awards for Sales & Customer Service. Stevie Awards competitions receive more than 12,000 nominations each year from organizations in more than 70 nations. Honoring organizations of all types and sizes and the people behind them, the Stevies recognize outstanding performances in the workplace worldwide. Learn more about the Stevie Awards at http://www.StevieAwards.com.
About the Women|Future Conference
This two-day conference presented by the Stevie Awards encourages engaging connections, professional and personal development, and health and financial wellness through motivational keynotes, educational sessions, and networking. The conference is made up of 100 transformative women speakers from around the world including notable CEOs, founders, entrepreneurs, and executives from AT&T Business, Amazon, Girl Scouts of the USA, Deloitte, HCL, Cisco, Microsoft, Roku, PayPal, SHE Media and others. The agenda topics address today's current issues in areas such as diversity and inclusion in the workplace, leadership, career planning, growth through social media, technology, health and financial wellness, sustainability, crisis management, and more. With panel discussions, a must-see keynote, case studies from Stevie® Awards for Women in Business winners, and a 'Shark Tank'-style pitch competition for women-owned businesses, this is an event you don't want to miss! Learn more at http://www.WomenFutureConference.com.