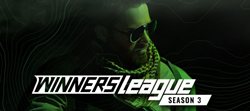 MINNEAPOLIS (PRWEB) October 21, 2019
Once again there will be two Invite Division regions comprised of 32 teams each, bringing ESL Pro League and major-level teams together with hot up-and-comers looking to break out at their expense. Both divisions will feature a number of teams returning from WINNERS League Season 2 alongside interesting newcomers.
They'll face some tough new opponents this time, though. North American staple eUnited will look to start the Ryan "freakazoid" Abadir era strong after adding the ex-Cloud9 star in September. He'll also be competing against former Ghost Gaming teammate Joshua "steel" Nissan, who has been playing alongside Ben's Anime Team.The Americas division will be headlined by a number of top teams from last season. Previous winners Swole Patrol, who won Season 2 under the Lazarus Esports banner, will return for Season 3 alongside other strong performers such as ATK, Team Singularity, and INTZ Esports.
There are plenty of young teams looking to make a name in WINNERS League as well. The New England Whalers, Ascent Esports, and 7sins Esports are all organizations that could carve out a spot in the upper echelons of the region.
Epsilon Esports' new Belgian lineup will look to keep its strong start going. Enduring French organization Team LDLC will join the fray with its retooled roster. DreamHack Showdown Valencia winners Besiktas Esports will look to establish itself beyond the scope of dedicated women's events. The list goes on!The Europe division will be welcoming back a slew of Season 2 teams including the likes of Unique Team, PACT, and runners-up Nemiga Gaming. Some very exciting new additions will also be made for Season 3.
WINNERS League is built around giving new teams the opportunity to climb the professional ladder and in honor of that, Season 2 Main Division winner Vexed Gaming will be promoted to the Invite Division for Season 3.
The WINNERS League Season 3 Invite Division regular season will begin on October 21. The regular season will see each group contested in a round robin format, with best-of-one series. The top four teams will advance to the playoffs, which will be a 16-team, single-elimination bracket conested with best-of-three series.
Both Invite Divisions will boast a $15,000 prize pool. First place will receive $7,000 while second takes $3,000. $1,500 will go to the eliminated semifinalists, while top-eight finishers will receive $500.
More information on WINNERS League can be found on the FACEIT page. Sign-ups for the open divisions will close on October 20.
About WIN:
WIN is an esports company founded by esports enthusiasts, offering three main products. The first is WIN.GG, an esports media platform featuring editorial content, a database with thousands of player and team entries, and live scores and schedules that allow users to track the latest competitions in real time. The second is WINNERS League, a competitive league structure that is based on the FACEIT platform. The third is WINNERS.bet, a sportsbook built from the ground up specifically for esports and its native audience.