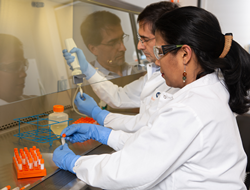 "We are pleased to support each of the winners with our systems and watch their research move forward." - Margot Connor, CEO, RoosterBio
FREDERICK, Md. (PRWEB) June 04, 2019
RoosterBio, a regenerative medicine manufacturing technology leader, announces four winners of the first RoosterBio Human Mesenchymal Stem/Stromal Cell (hMSCs) Development Grant aimed at facilitating investigators who share the mission of RoosterBio, Inc to accelerate the path to clinical translation for adult cell-based therapeutics. The award winners receive RoosterBio's cell and media products totaling up to $25,000 each and an additional $500 RoosterBio Travel Grant to support trainees presenting a poster or talk at an eligible conference.
RoosterBio launched the hMSC Development Grant in 2018 to supply standardized, highly engineered hMSC bioprocess systems to streamline product development and manufacturing process design for projects in early stage development, focused on proof of concept and/or understanding the impact of donor variability or manufacturing scale-up on final product quality attributes. Priority was given for projects identified in focus areas including gene editing, exosomes or extracellular vesicles (EVs), tissue engineering and bioreactor expansion; however, applications for all emerging areas were encouraged. Grant applicants were required to be affiliated with a research and development (R&D) lab at a university or industry setting with access to lab space.
The award recipients and projects include:

Ipsita Banerjee, PhD, Associate Professor, Department of Chemical Engineering, University of Pittsburgh; "Towards a biometric islet organoid engineering for applications in diabetes therapy and drug discovery"
Steven M. Jay, PhD, Assistant Professor, Fischell Department of Bioengineering, University of Maryland; "Optimization of Therapeutic MSC Exosome Production in a Perfusion Bioreactor"
Ross Marklein, PhD, Assistant Professor, Regenerative Biosciences Center, University of Georgia, "Development of phenotypic and functional reference standard curves to improve quality control of MSCs for immune diseases"
David Vorp, PhD, Professor, Department of Bioengineering, University of Pittsburgh, "Vascular Regeneration Driven by Adipose-Derived hMSC"
"MSCs are a critical raw material for many regenerative medicine (RM) products which until now have faced a significant bottleneck in RM product development," said RoosterBio CEO Margot Connor. "Breaking down those barriers requires process innovations that lead to a paradigm shift in adult stem cell product development, clinical translation and commercial-scale manufacturing. We are pleased to support each of the winners with our systems and watch their research move forward."
Submissions will be accepted for the 2019 grant later this year. For more information about the grant opportunity, please contact Joe Candiello, PhD, Product Manager at joec(at)roosterbio.com.
About RoosterBio, Inc.
RoosterBio, Inc. is a privately held cell manufacturing platform technology company focused on accelerating the development of a sustainable regenerative medicine industry, one customer at a time. RoosterBio's products are high-volume, affordable, and well-characterized adult human mesenchymal stem/stromal cells (hMSCs) paired with highly engineered media systems. RoosterBio has simplified and standardized how stem cells are purchased, expanded, and used in development, leading to marked time and costs savings for customers. RoosterBio's innovative products are ushering in a new era of productivity and standardization into the field, accelerating the road to discovery in Regenerative Medicine. For more information on RoosterBio, please visit http://www.roosterbio.com.