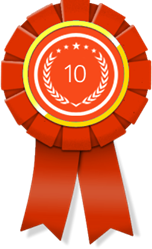 CHICAGO (PRWEB) September 12, 2019
As part of its monthly ranking service, 10 Best SEO is pleased to present the winners of its Best SEO Agency awards for August 2019, with Straight North and Ignite Visibility leading this award category.
SEO, or search engine optimization, is a major marketing effort that requires specific expertise. While a lot of freelancers might say that they can do this for a company, the results could prove otherwise. There are no guarantees with SEO, and it takes a team of experts to ensure that traffic grows and is maintained, even if Google changes one of its algorithms. Companies that depend on fresh visitors need to have a well-researched SEO campaign in place. The 10 Best SEO service offers a free list for business owners to use in their search for the best SEO agency. Here are details about a few firms that earned a spot on the August 2019 list.
Business owners should take a look at Straight North, the best SEO company recognized for August. This marketing company is located in Chicago. Its 99 percent customer satisfaction rating is a result of its successful local and niche SEO services. The firm roots all of its campaigns in data and research. The marketers offer ongoing analysis and updates in order to accommodate for changes in keyword trends and algorithms. The associates at Straight North offer a lot of different SEO packages.
Another one of the top online marketing firms that business owners should consider is Ignite Visibility. With headquarters in San Diego, it is a medium-sized marketing firm with 50 to 250 marketing specialists who offer a wide spectrum of SEO services. One of their areas of expertise is with social media marketing and pay-per-click advertising that includes SEO in the text of the ad. They can also use search engine marketing with a focus on SEO.
Boostability is a top SEO agency with more than 250 marketing specialists. Located in Lehi, Boostability offers a full range of SEO services. They offer niche campaigns for medical, dental and legal clients. They also offer local and global SEO services. This firm has an affordable hourly rate and a 98 percent customer satisfaction rating.
This list of the top online marketing firm options could change next month, so businesses should be on the lookout to see which firms are on the next iteration of the list. This brand-new monthly award by 10 Best SEO is designed to facilitate the decision-making process for business owners in need of quality SEO campaigns.
For more information about the recent award winners, please visit http://www.10bestseo.com.