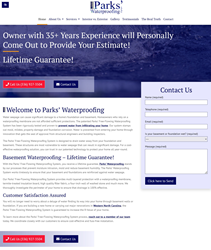 "We are honored to receive this award and truly strive to provide the very best for our valued customers," says owner Jody Parks.
WINSTON SALEM, N.C. (PRWEB) January 27, 2023
The Parks' Waterproofing mission is to protect homes or business premises from water intrusion with custom, maintenance-free (no sump pumps) drainage and waterproofing design solutions that often include our own patented, innovative system that effectively stops moisture before it reaches the foundation or basement. Find Local Contractors is a trusted and easy-to-navigate online directory that helps consumers identify local contractors who have earned superior customer feedback.
Parks' Waterproofing has received consistent five-star ratings and excellent reviews from multiple online sources, mentioning exceptional customer service, affordable rates and professionalism. With custom drainage design solutions by Parks' Waterproofing, structures are protected with a number of features, which work together, ensuring all of the moisture is directed away from the property. Conventional interior waterproofing membranes do not prevent water from infiltrating foundations or basements and are notoriously unreliable due to pump, power, and battery failures, as water is free to invade, compromising the structure and leading to significant damage.
At Parks' Waterproofing, their goal is to create solutions that meet customers' needs with the most cost-effective solutions. They accomplish this by conducting thorough inspections to establish vulnerabilities and giving a fair quote on the cost of any recommendations. In addition to waterproofing and engineer-certified structural repairs, Parks' Waterproofing also provides gutter installation, masonry, and concrete finishing services.
"We are honored to receive this award and truly strive to provide the very best for our valued customers," says owner Jody Parks.
More About Parks' Waterproofing:
Parks' Waterproofing is different from most companies in that the owner, Jody Parks, personally inspects and offers customized, maintenance-free solutions for every single job and has been providing prompt, professional service for over 35 years. They offer a lifetime warranty with work completed at residential or commercial properties using the patented Parks' Free-Flowing Waterproofing System. Their approach to dealing with water intrusion is proactive and offers a cost-effective solution that adds value to properties. For more information, please call 336-927-3504 or visit http://www.parkswaterproofing.com.