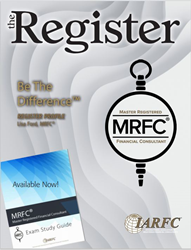 This issue of the Register is dedicated to the MRFC professional and why they became a Master Registered Financial Consultant. Their testimonials are insights into the value and prestige of the accredited credential...Susan Cappa, IARFC Register Editor.
MIDDLETOWN, Ohio (PRWEB) February 02, 2021
The MRFC is 1 of only 8 accredited financial credentials listed on FINRA. Vetted and sanctioned by the National Commission for Certifying Agencies (NCCA), consultants have to adhere to a strict Code of Ethics and maintain one of the highest requirements for continuing education. Contributors to this issue share their reasons for becoming an MRFC, the exam process, and how they are using the accredited credential in marketing their practice to clients and prospects.
The Member Profile section of this issue highlights Lisa Ford, MRFC® from Ascend Planning and Wealth Management. As an MRFC and a US Chapter Board Director, she serves her clients with a well thought out approach and commitment while finding time to support the Mission of the IARFC. Her mantra – Helping you to…Plan it! Execute it! Live it! – reverberates throughout her dealings with clients, her commitment to the IARFC and her personal life philosophies.
Additional contributed articles include:

Testimonials from MRFCs
Stand Out from the Crowd – Barry Dayley, MRFC®
10 Things I Learned Writing the MRFC Exam Study Guide – Bryce Sanders
Be the Difference – Robert Lawson, MRFC®
The Consumer Relations with the MRFC – Angela Wentz, MRFC®
Exciting IARFC Association News
Developments in MRFC Certification Program
International News
In his Trustee's Chair address, Dr. H. Stephen Bailey, MRFC® makes reference to the MRFC Certification Program and addresses the initial startup and continual maintenance work performed by the MRFC Certification Board and the IARFC Home Office. "We really have gone through major efforts to accredit the MRFC," comments Bailey. "It gives our Association a 'high bar' credential which our consultants can aspire to and feel proud of. I am well pleased at the IARFC commitment to the MRFC Certification Program and encourage our members to sit for the exam."
Exciting news is that the New MRFC Exam Study Guide is ready and can be ordered on the IARFC Store. Produced by the IARFC Press, the material covers the Blueprint Exam Content on which exam questions are written.
Internationally, this Register features the launch of the Tuesday Podcast Program from the Philippines Chapter on Facebook. Initiated in November of last year, the weekly show invites the best and brightest in the Financial Industry to share successful career tips. All episodes are available on demand from the IARFC Philippines Facebook page.
To access the Winter Register, visit the IARFC website. Those who are interested in writing for subsequent issues can download the 2021 Editorial Calendar for editorial topics. Questions or submissions can be forwarded to Susan Cappa at editor@iarfc.org.