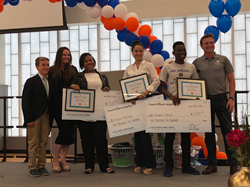 The Carol Kimmelman Memorial Scholarship is a signature program of Winward Academy and honors Carol's legacy as an advocate for educational equity.
SAN DIEGO (PRWEB) January 28, 2020
Winward Academy awarded over $150,000 in scholarships to 50 deserving high school students from across the country. To advance college opportunities, Winward Academy worked closely with the teachers and counselors at its partner schools and charities to nominate youth who embody values of grit, heart and purpose. The Carol Kimmelman Memorial Scholarship is a signature program of Winward Academy and honors Carol's legacy as an advocate for educational equity.
"Carol, a K-12 educator, always said her kids were born on 3rd base sliding into home and that students she taught in South Central L.A. were equally deserving, smart and hard-working but could go their entire lives fighting for a chance at bat," said Dr. Jennifer Winward, founder and CEO of Winward Academy. "The goal of the Carol Kimmelman Memorial Scholarship is to honor Carol's memory by giving more students a chance to hit a home run. That possibility is everything she would have wanted."
Students using Winward Academy's learning platform are eligible to compete for the scholarships. One recipient, Albert Tran, started at UC Berkeley this Fall and impressed the scholarship selection committee for the hundreds of hours he committed to programs for pediatric trauma. He interned in neurobiology and oncology research labs and studied diligently with Winward Academy to earn an impressive 33 on his ACT. He developed literacy programs for youth at the Orange County Library and earned the Presidential Volunteer Service Award for his exceptional commitment to community needs. Tran won the hearts of the scholarship committee with his essay about his utilization of origami both as a release from chaos and as a gateway to friendship.
Another scholarship winner, Carolina Herrera, was born in Montevideo, Uruguay and came to the United States as a young child. She attends the University of Pennsylvania, where she plans to pursue a major in Criminology. During her high school career, Herrera utilized Winward Academy's platform and distinguished herself with exemplary grades, AP classes, and standardized test scores. Additionally, Carolina worked 16 hours a week at Starbucks and played for her school golf team all four years. It was on the golf course that Carolina learned a valuable life lesson about perseverance. "Practice, time, and patience are all integral parts of success," she said. "I must have the patience and courage to grab a nine iron and hit a few hundred balls before I see a change in my swing."
Winner Erick Ho, who attends the University of California, Irvine, shared just how meaningful it was for him, a first-generation college student coming from a low-income household, to be the recipient of the Scholarship. He shared, "you're twice as appreciative and thankful for every dollar that comes in because that alleviates your worries of not just overcoming the financial barriers to a high quality college education, but also bringing the peace of mind that the everyday necessities - food, water, electricity, and even rent - the money and somewhat stable life that your parents would've happily sacrificed for your education, is put back into their pocket."
All 50 recipients were first-generation college students coming from households where scholarships are enormously important in enabling student success in college.
For more information on this scholarship, see winwardacademy.com/donation/.
About Winward Academy
Test success, college success, and life success – they all begin at Winward Academy, a research-based, student-centered learning platform for the ACT, SAT, math class, and college applications. Winward Academy applies a scientific approach to customize learning for each student, enabling growth for students of all levels and learning styles. Winward Academy is a team of passionate adolescent learning researchers committed to thoughtfully developing curriculum that improves learning, retention, and test performance – building confidence for life. Winward Academy curriculum is used by students at home, by teachers in the classroom, and by charities in after-school and summer programs. For more information on Winward Academy, see winwardacademy.com or follow the company on Facebook, Instagram, or Twitter.