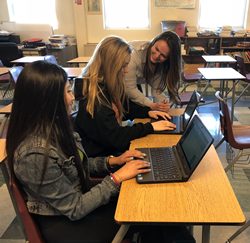 "Technology is a tool for teaching but should never be the teacher. Students need to feel connected to what they're learning, why it's important, and who is teaching them."- Jennifer Winward, Ph.D., Winward Academy Founder and CEO
SAN DIEGO (PRWEB) January 27, 2020
The Education Technology (Ed-Tech) industry is one with great promise of solutions for teachers and students but also one that faces great challenges. Historically, ed-tech offerings have not provided personalized learning experiences for students, nor have they offered measurable outcomes to monitor success. Those issues have been addressed with the development of Winward Academy, an ed-tech solution created by a University of California, San Diego instructor, Dr. Jennifer Winward.
Winward, founder and CEO of Winward Academy, shares, "ed-tech solutions should be the application of technology to education, not vice versa. The best online education is student-centric - it recreates an in-person learning experience by honoring over 40 years of education and cognitive psychology research that identifies techniques to promote effective learning."
Using technology that incorporates effective learning techniques into a self-paced, personalized, on-demand platform marries the best of education with the best of technology. Innovations provided by Winward Academy's learning platform that honor this education research include the following:

Mistake Bank – missed questions are automatically saved in students' personal Mistake Banks, making it easy for them to review prior mistakes and promoting a growth mindset.
Give Yourself a Hint – students paraphrase what they learn into problem-solving hints that can be turned into customized study guides.
Supportive Feedback – students receive specific, clear feedback on every answer and access step-by-step explanations for every question.
Before-and-After Assessments – with data on pre-lesson and post-lesson accuracy, students receive immediate feedback, track their progress, and maximize their learning.
Winward shared her thoughts on effective ways to deliver transformational strategies that result in documented success for students in the country's charter schools, private and public high schools. "Technology is a tool for teaching but should never be the teacher. Students need to feel connected to what they're learning, why it's important, and who is teaching them."
Most notable is the impact of the platform on underserved students Winward Academy reaches through its philanthropic mission. According to the 2017 ACT annual report, only 9% of underserved high school students are "college ready" as measured by attainment of benchmark scores. After using Winward Academy, underserved students are 3.5x more likely to be college ready in English, 4.0x more likely in Math, 3.6x more likely in Reading, and 4.0x more likely in Science.
Barbara Ybarra, CEO of Barrio Logan College Institute, which supports high school students who will be the first in their families to attend college, states, "I'm thrilled to see a CEO committed to serving all students, making resources typically limited to those who can afford private tutors available to all youth."
Technology offered in the Winward Academy platform ensures reliability and consistency of lessons with a resource that's always accessible and accurate. Winward Academy harnesses technology to not only improve test scores but also promote passion for life-long learning and encourage long-term retention of foundational skills and habits that also contribute to collegiate and career success.
About Winward Academy
Test success, college success, and life success – they all begin at Winward Academy, a research-based, student-centered learning platform for the ACT, SAT, math class, and college applications. Winward Academy applies a scientific approach to customize learning for each student, enabling growth for students of all levels and learning styles. Winward Academy is a team of passionate adolescent learning researchers committed to thoughtfully developing curriculum that improves learning, retention, and test performance – building confidence for life. Winward Academy curriculum is used by students at home, by teachers in the classroom, and by charities in after-school and summer programs. For more information on Winward Academy, see winwardacademy.com or follow the company on Facebook, Instagram, or Twitter.