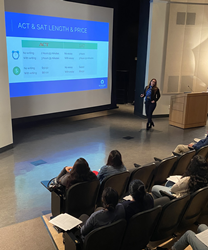 "We're thrilled to see the U.S. Department of the Interior supporting educational equity initiatives for American Indian students." - Jennifer Winward, Founder & CEO of Winward Academy
SAN DIEGO (PRWEB) February 03, 2020
Winward Academy - a San-Diego based ed-tech company - has launched an initiative to bring its educational programs to American Indian schools and students around the country. The curriculum provides support for students to prepare for math class, ACT and SAT college entrance exams, and college applications.
Recent data from ACT highlight that American Indian students in the United States attain lower levels of college readiness than their Asian American or White peers. Only 32% of American Indian teens are considered college ready in English; 15% are college ready in Math; and 15% are college ready in Science - compared to their white peers of whom 72% are college ready in English, 49% in Math, and 46% in Science. These discrepancies are staggering and point to a serious gap in resources and support for American Indian youth.
Winward Academy is addressing this resource gap. In the past six months, American Indian students using the program have shown tremendous success, showing, on average, increases in English performance by 17% and in Math performance by 15%.
Skylar Frasier, AVID elective teacher at Chemawa Indian School in Salem, Oregon shared, "Chemawa students need the individualized approach to ACT preparation that Winward offers. Our students report that they feel more empowered when they are in control of their test preparation study plan and we have noticed an increase in engagement with the test preparation course."
In Anadarko, Oklahoma, Kellie Moser instructs juniors at Riverside Indian School. She said, "my students have really enjoyed the program and are becoming more comfortable with the content and more confident in their test taking abilities. It's critical that they develop the knowledge and skills to be successful beyond an ACT or SAT and into college and career. That's what we focus on every day."
As part of its continued effort to support all students, Winward Academy is committed to continuing this program and its support for American Indian high schools. "We're thrilled to see the U.S. Department of the Interior supporting educational equity initiatives for American Indian students," shared Winward Academy founder and CEO, Dr. Jennifer Winward. "We're hopeful to see continued growth and improvement among all students we serve, and we're thrilled to work closely with such dedicated teachers working every day to transform outcomes for the youth they serve. Nothing would be possible without them."
For more information about Winward Academy's efforts to support American Indian students, please contact Jon Medovich at 305.842.1197 or jon@winwardacademy.com.
About Winward Academy
Test success, college success, and life success – they all begin at Winward Academy, a research-based, student-centered learning platform for the ACT, SAT, math class, and college applications. Winward Academy applies a scientific approach to customize learning for each student, enabling growth for students of all levels and learning styles. Winward Academy is a team of passionate adolescent learning researchers committed to thoughtfully developing curriculum that improves learning, retention, and test performance – building confidence for life. Winward Academy curriculum is used by students at home, by teachers in the classroom, and by charities in after-school and summer programs. For more information on Winward Academy, see winwardacademy.com or follow the company on Facebook, Instagram, or Twitter.