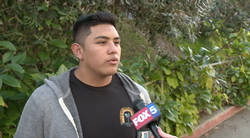 "It's imperative that Josh and others like him have access to resources like Winward Academy to bring the luxury of a tutor to students who don't have time or access to one."- Barbara Ybarra, CEO of BLCI
SAN DIEGO (PRWEB) January 29, 2020
Understanding the pressure on student athletes to maximize their time and resources, Fox Sports featured Winward Academy as a tool for success for efficient and personalized study for high school academics. The challenges faced by student athletes – frequent traveling, driving, limited time for studying after school and practice – are well documented. Knowing that coaches tend to recruit high school athletes with stronger GPAs and higher ACT and SAT scores, athletes must prioritize academics with sports.
Fox Sports reporter Tabitha Lipkin met with La Jolla High School student Joshua Jasso to better understand the journey and the challenges of being a competitive high school athlete. Jasso is the Varsity wrestling captain, maintains a 4.7 GPA, and is working towards his dream of attending Stanford and becoming a cardiologist.
According to Lipkin, "Jasso stands out, going above and beyond in wrestling and academics. Academics is just as important, if not more important, as athletics to Jasso - a life lesson he learned from his father. With the Winward Academy, he can make the most out of the very limited time he has in his day."
Jasso started using Winward Academy to support his academics through his involvement with Barrio Logan College Institute (BLCI). According to BLCI CEO Barbara Ybarra, "students like Josh who work tirelessly inside and outside the classroom are outstanding role models to their peers, their younger siblings, and their communities. It's imperative that Josh and others like him have access to resources like Winward Academy to bring the luxury of a tutor to students who don't have time or access to one."
College admissions tests like the ACT and SAT are critically important in the recruitment process. And, higher scores mean significant academic scholarships can be combined with collegiate athletic opportunities, thus opening more doors for deserving students. "Winward Academy is proud to be part of the successful college journeys for students like Josh," shared Winward Academy founder and CEO, Dr. Jennifer Winward. "There is nothing that matters more than supporting youth to achieve their academic, college, and career goals."
About Winward Academy
Test success, college success, and life success – they all begin at Winward Academy, a research-based, student-centered learning platform for the ACT, SAT, math class, and college applications. Winward Academy applies a scientific approach to customize learning for each student, enabling growth for students of all levels and learning styles. Winward Academy is a team of passionate adolescent learning researchers committed to thoughtfully developing curriculum that improves learning, retention, and test performance – building confidence for life. Winward Academy curriculum is used by students at home, by teachers in the classroom, and by charities in after-school and summer programs. For more information on Winward Academy, see winwardacademy.com or follow the company on Facebook, Instagram, or Twitter.